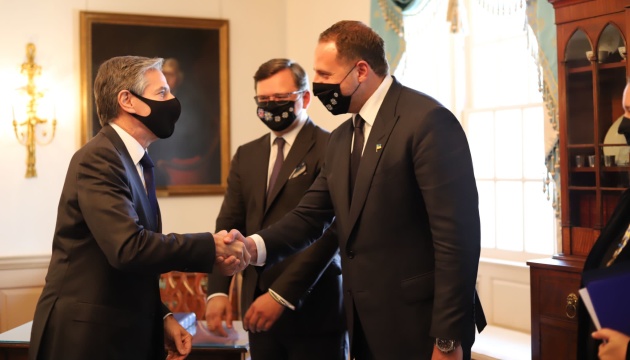 Kuleba, Yermak meet with U.S. Secretary of State Blinken
Minister of Foreign Affairs of Ukraine Dmytro Kuleba and Head of the Office of the President of Ukraine Andriy Yermak met with U.S. Secretary of State Antony Blinken in Washington on August 5.
"It's a real pleasure to have Foreign Minister Kuleba and his delegation here at the State Department. The minister and I have been working very closely together over the last six months since we've come to office, and in particular, we're very much looking forward, President Biden's very much looking forward to a meeting with President Zelensky at the end of the month," Blinken said before the meeting, an Ukrinform correspondent reported.
The United States is very much committed to Ukraine's independence and sovereignty, its territorial integrity, Blinken added.
"We want this visit to be productive, to have many deliverables which will bring our relations to the next level. We believe it's in the interest not only of the United States of America and Ukraine, but also in the interests of the region that I represent. Ukraine is a stronghold of democracy in Central Eastern Europe, and we want to work closely with the United States to make the entire region a success story," Kuleba said.
The meeting between Kuleba, Yermak, and Blinken lasted about an hour.
On August 4-5, Yermak and Kuleba made a visit to Washington in preparation for President Volodymyr Zelensky's visit to the United States in late August.
Photo credit: President's Office
ol