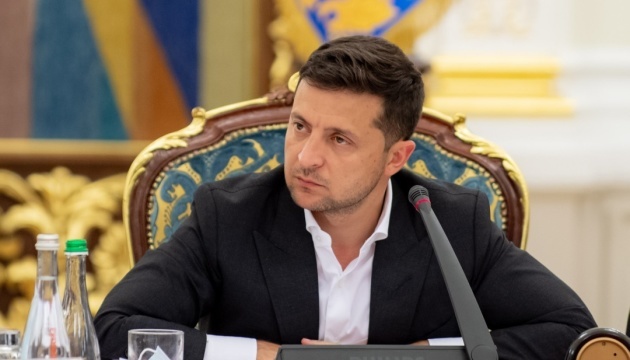 Zelensky: 90% of success in returning occupied territories depends on one person
Implementing plans for a peaceful settlement in eastern Ukraine, as well as reintegration and deoccupation, cannot depend on Ukraine alone, as the will is also required of the Russian president.
President of Ukraine Volodymyr Zelensky emphasized this in an interview with the Dom TV channel, Ukrinform reports.
"I believe, and the President of the Russian Federation is aware of my opinion, that today 90% of success in the return of Donbas, the deoccupation of our territories depends on one person. And we must know for sure that he lives with it. And people in Donbas must understand this. They shouldn't have any illusions. Indeed, we do involve our international partners, we have developed certain plans. Yes, we do have everything in place. What is needed is will. Political will. Human will," Zelensky said.
According to the Ukrainian leader, people living in the temporarily occupied territories of Donetsk and Luhansk regions should also realize this.
"Very often journalists say, 'Listen, well, what's next?' A new stage required. People want certainty.' But there is no such thing. There's some documents and steps laid down. Like, here it is, step by step, what needs to be done. You follow this plan, and then something goes wrong. 'Did you promise to end the war in a year?!' Of course, I really want this. I've been doing everything to this end. But, unfortunately, not everything depends on me," Zelensky stressed.
He has stressed that Ukraine has the will for political and diplomatic settlement, while illegal armed groups in the occupied territories open fire on civilians.
As reported earlier, on the morning of August 5, the occupation forces shelled a residential neighborhood in Krasnohorivka, Donetsk region, injuring a local man and damaging an apartment in a residential block on Skhidna Street.
Criminal proceedings have been instituted under Part 1 of Article 438 of the Criminal Code of Ukraine (Violation of the laws and customs of war).
im