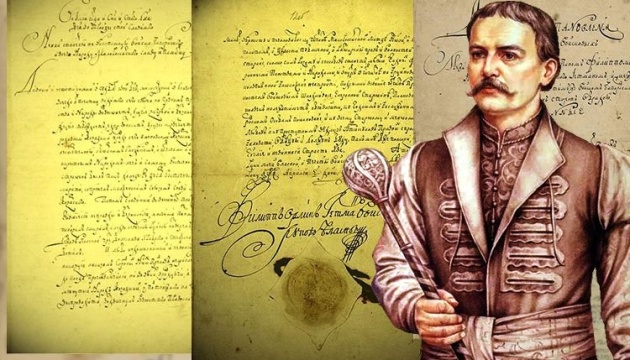 Original Constitution of Pylyp Orlyk to be brought to Ukraine on Aug 16 – Zelensky
The original Constitution of Pylyp Orlyk will be brought to Ukraine for the first time on August 16 on the occasion of the 30th anniversary of Ukraine's independence.
President Volodymyr Zelensky said this while presenting the concept of celebrating Independence Day during the All-Ukrainian Forum "Ukraine 30. Ukraine's Image Abroad" on August 2, an Ukrinform correspondent reports.
"The struggle for independence lasted more than one day; therefore, we will celebrate victory in this struggle for more than one day. A week before Independence Day and for the first time in the history of our country, the original Constitution of Pylyp Orlyk will be brought to Ukraine. All citizens will be able to see the document at St. Sophia Cathedral starting from August 16," Zelensky said.
He added that the 30th anniversary of Ukraine's independence is a very important day, because it is an opportunity to understand what Ukrainians have learned during the years of independence and what else they need to learn in order to never lose it – this is what the celebration is dedicated to.
The president noted that the celebration of the 30th anniversary of the country's independence will consist of 10 main events.
As reported, a military parade will take place in the center of Kyiv on Independence Day, August 24.
The day before, on August 23, the first summit of the Crimean Platform and the Summit of First Ladies and Gentlemen will be held.
The Pylyp Orlyk's Constitution is a 1710 constitutional document written by Hetman of Ukraine Pylyp Orlyk.
It established the principle of the separation of powers in government between the legislative, executive, and judiciary branches well before the publication of Montesquieu's Spirit of the Laws. The document limited the executive authority of the hetman, and established a Cossack parliament called the General Council.
The Old Ukrainian-language original, signed by Orlyk, accompanied by a diploma signed by King Charles XII of Sweden was found in 2008 by Ukrainian researchers in the Russian State Archive of Ancient Acts, Moscow. The Latin-language original is kept in the National Archives of Sweden.
ish