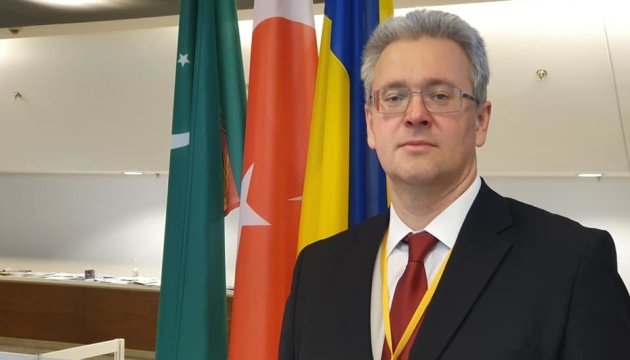 Ukraine Mission to OSCE slams "fake narratives" in Putin's article
The Permanent Mission of Ukraine to the Organization for Security and Cooperation in Europe (OSCE) drew the attention of participating states to the concept of sovereignty offered by Russian President Vladimir Putin in his latest op-ed filled with fake narratives on Ukraine.
Addressing the OSCE Permanent Council on July 15, Ukraine's Permanent Representative to the International Organizations in Vienna, Ambassador Yevhenii Tsymbaliuk, noted that President Putin last Monday, July 12, "published a long article with a whole range of Russia's fake narratives on Ukraine," an Ukrinform correspondent reported.
"I believe some of my colleagues are already familiar with it. I would quote only one sentence from it, 'I am confident that true sovereignty of Ukraine is possible only in partnership with Russia', end of quote," Tsymbaliuk told the Permanent Council.
"Quite an interesting concept of sovereignty, isn't it?" the diplomat added.
Ukraine's permanent representative went on to explain that the Kremlin's leadership "remains frustrated that independent Ukraine does not seek Russia's so-called 'partnership' after it initiated an armed attack against Ukraine in 2014, which brought temporary occupation and attempted annexation of parts of its territory."
"So, Russia simply continues its aggression, hoping that so-called 'peace enforcement,' another concept it distorted, falsified and grossly abused for its own bellicose purposes, cases of which we have observed in many countries, most recently in Georgia and Ukraine, will work," stressed Tsymbaliuk.
As Ukrinform reported earlier, on July 12, Vladimir Putin published an article "On the Historical Unity of Russians and Ukrainians."
It sets out Russia's imperial version of the history of Eastern Europe from the times of Ancient Russia to the present day.
In his piece, Putin scornfully questions Ukraine's very territorial integrity and sovereignty, claiming that the Russian side "will never allow our historical territories and people close to us living there to be used against Russia."
"To those who make such an attempt, I want to say that in this way they will destroy their country," Putin threatened.
im