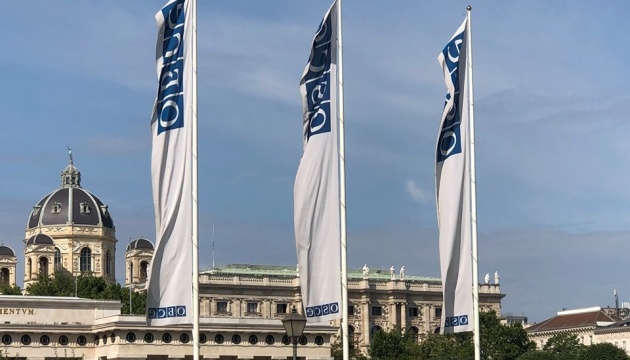 OSCE PA condemns Russia's occupation of Crimea and CADLR
The Parliamentary Assembly of the Organization for Security and Co-operation in Europe (OSCE PA) has adopted a resolution condemning Russia's continued occupation of Crimea and certain areas of Donetsk and Luhansk regions (CADLR) and calling on the Russian Federation to withdraw its troops from Ukrainian territory.
Mykyta Poturayev, head of the delegation of the Verkhovna Rada of Ukraine to the OSCE PA, wrote about this on his Facebook page on July 6, Ukrinform reports.
"Despite the fierce resistance of the Russian delegation and delegations of countries that are under Russian influence, the OSCE Parliamentary Assembly has just adopted an urgent resolution, initiated by Ukraine, and strongly condemns the continued occupation of Crimea and certain areas of Donetsk and Luhansk regions (CADLR), and the war crimes of the Russian authorities, armed forces and mercenaries in the temporarily occupied Ukrainian territories," he said.
The resolution also condemns Russia's attempts to block the Kerch Strait and the Sea of Azov, contrary to international law.
In addition, the document condemns the violation of human rights in the occupied Crimea and certain areas of Donetsk and Luhansk regions, as well as the ongoing dangerous militarization of the occupied Crimea and the illegal Russian passportisation of Ukrainian citizens who are forced to stay in the occupied areas of Donetsk and Luhansk regions.
"Having adopted a resolution on Ukraine, the OSCE PA has once again put forward a demand to Russia - as an initiator and party to the conflict with Ukraine, as an aggressor state and an occupying state - to immediately leave the occupied Ukrainian territories and stop daring and large-scale violations of international law," Poturayev stressed.
He noted the strong and unanimous support of the Ukrainian resolution by the delegations of all Western countries, as well as many other countries that consistently support Ukraine.
According to the head of the delegation, despite the outright blackmail of Russia, which threatened to withdraw from the OSCE PA in case of supporting the Ukrainian resolution, "the delegations of the countries supporting Ukraine, as well as the leadership of the Parliamentary Assembly, have shown firmness and unity."
"Therefore, the OSCE PA supported the Ukrainian resolution, as well as the U.S. resolution, which condemns the growth of hatred and violence in the world and makes a separate focus on the events and situations in Belarus, as well as the Netherlands resolution, which is fully aimed at condemning the crimes of the regime of self-proclaimed President Lukashenko against its own citizens," he said.
He added that the Russian and Belarusian delegations had to leave the meeting of the OSCE PA.
As reported, the regular session of the OSCE PA was held in a remote format from June 30 to July 6.
ish