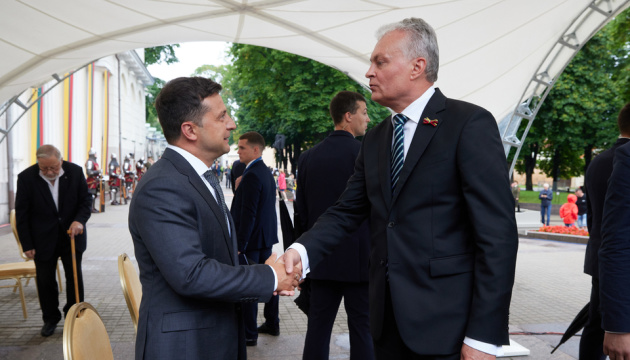 Zelensky: Ukraine and Lithuania have common values and aspirations
Lithuania is a reliable and committed partner of Ukraine, there is no common border between the countries, but there are common values, interests and aspirations, President Volodymyr Zelensky has stated in his speech at the celebrations on the occasion of the Statehood Day of the Republic of Lithuania in Vilnius
The event was broadcast live on the Facebook page of the President's Office, Ukrinform reports.
"Today, Ukraine is defending its own statehood, sovereignty and territorial integrity, and all this time Lithuania has been our reliable, committed partner on this difficult path. Lithuania was one of the first to condemn the annexation of Crimea by the Russian Federation, and Lithuania was the first to officially declare its readiness to support Ukraine's accession to the EU. We will always remember this, we will always be grateful for this," Zelensky said.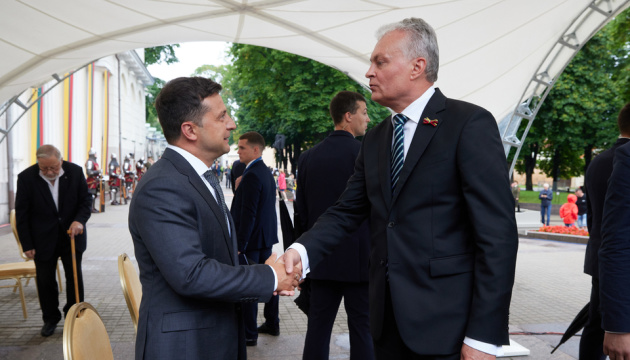 At the same time, Zelensky reminded that Ukraine and Lithuania have a common past, in particular, in the times of the Grand Duchy of Lithuania, one of the leading states in Europe, where Lithuanians and Ukrainians coexisted freely. In addition, the President mentioned the Lithuanian statutes, the sources of which were, in particular, Lithuanian and Ukrainian customary law.
Zelensky stressed the importance of a common future between the two countries.
"Ukraine and Lithuania do not have a common border, but we have the most important thing - we have common values, we have common interests, we have common aspirations, and therefore - a common path to a successful common tomorrow," he said.
Zelensky congratulated the Lithuanian people on the Statehood Day and assured that Ukrainians fully share the joy of this date and can understand its importance.
As Ukrinform reported, President Volodymyr Zelensky is on an official visit to the Republic of Lithuania on July 6-7, where he will meet with the President of Lithuania, the President of the European Council and participate in the Ukraine Reform Conference.
iy