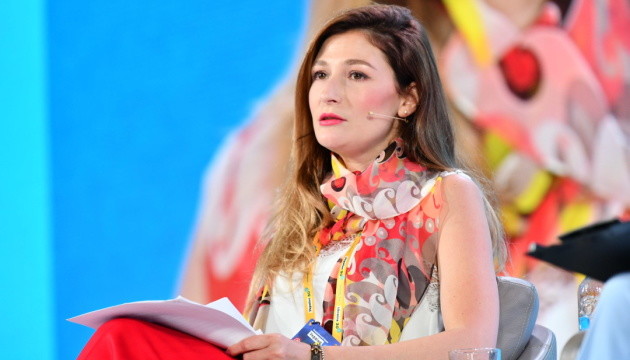 Dzheppar: Crimean Platform is Ukraine's contribution to European security system
The creation of the Crimean Platform initiative is Ukraine's contribution to the system of European security and restoration of order, and its launch will be a powerful signal that any attempts to change internationally recognized borders are unacceptable, according to Ukraine's First Deputy Foreign Minister Emine Dzheppar.
She stated this at the All-Ukrainian Forum "Ukraine 30. International Relations" on Tuesday, July 6, according to an Ukrinform correspondent.
"Ukraine's leadership in the Crimean Platform is key. We are thus making an absolutely clear and concrete contribution to the system of European security and restoration of order. [...] Ukraine invites states to join joint efforts to liberate Crimea. This should be a strong signal of the unacceptability of any attempts to change internationally recognized borders by force, the cohesion of the world community and common values. A joint declaration that we plan to adopt during the summit, in addition to the formal launch of the Crimean platform, will confirm the invariability of the formula 'Crimea is Ukraine,' condemn Russia's crimes in Crimea and around it and outline the parameters of international de-occupation policies," Dzheppar said.
According to her, the organization of the Crimean Platform summit and the process of drafting its joint declaration have demonstrated two important things: Ukraine managed to form the core of the international coalition for the liberation of Crimea, which is growing in number, and to develop a common understanding that delays in responding to the occupation of Crimea and related crimes effectively gave Russia and other authoritarian regimes carte blanche to a further attack on the rules of a democratic world.
Dzheppar said that the ultimate goal of the Crimean Platform was the de-occupation of Crimea and its return to Ukraine's control by peaceful means, and this is also emphasized in the Strategy for De-occupation and Reintegration of Crimea.
"In this way, we will move in five priority directions: the consolidation of the international policy of non-recognition of any change in the status of Crimea, the effectiveness of sanctions, their strengthening and the blocking of ways to avoid restrictive measures, the protection of human rights and international humanitarian law and the restoration of the rights of indigenous Crimean Tatar people, ensuring security in the Azov and Black Sea region and beyond it and protecting the principle of freedom of navigation, as well as overcoming the environmental and economic consequences of the occupation," Dzheppar said.
The Crimean Platform is a new consultative and coordination format initiated by Ukraine to increase the effectiveness of the international response to the ongoing occupation of Crimea, respond to growing security challenges, strengthen international pressure on the Kremlin, prevent further human rights violations, protect victims of the occupation regime. The Platform's key objective is de-occupation of Crimea and its return to Ukraine.
The activities of the Crimean Platform will be launched at the summit in Kyiv on August 23.
op