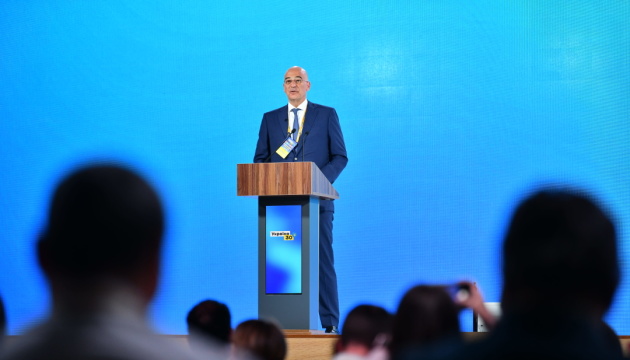 Greece supports Ukraine's aspirations to become EU and NATO member
Greece supports Ukraine's path towards membership in the European Union and NATO and makes efforts to maintain security measures in the Black Sea.
"We will support Ukraine in its accession to the European Union and NATO. We could become an ideal ally of Ukraine in the EU. We are interested in developing relations because Ukraine is part of Europe, but we also consider it a neighboring country," Minister of Foreign Affairs of Greece Nikos Dendias said at a joint press conference with Minister of Foreign Affairs of Ukraine Dmytro Kuleba in Kyiv, an Ukrinform correspondent reports.
Dendias added that, according to the Greek side, Ukraine should make greater use of the provisions of the Association Agreement with the EU at this stage.
The Greek Foreign Minister welcomed Ukraine's joining the European Green Deal and other EU decisions.
"This is very correct, and you have our support in this. We hope that the process of Ukraine's accession to all EU provisions will be completed very soon," the minister said.
Dendias also assured that Greece supported Ukraine on the path of reforms in accordance with NATO standards and, as a member of the Alliance, worked to strictly adhere to security measures in respect to Ukraine in the Black Sea.
The Greek minister also noted that their war for independence began in Odesa with the establishment of the Filiki Eteria national secret organization in 1814.
Dendias noted that the 30th anniversary of Ukraine's Independence is symbolic for Greece as the 200th anniversary of the beginning of the Greek War of Independence will be celebrated the same year.
"It is important to note here in Kyiv, the capital of Ukraine, that we always remember that our war for independence, our revolution began in Ukraine. We will always remember that Odesa was a city where the Society of Friends, in Greece we call it Filiki Eteria, was founded in 1814 with the aim of creating an independent Greek state," Dendias said.
This is why Odesa and Ukraine are "so close to the hearts of Greeks", he stressed.
"This is one of the many reasons why Greece helps and will always help Ukraine in its European aspirations. We believe that you belong to the European Union next to us," the Minister of Foreign Affairs of Greece said.
The Filiki Eteria, or Society of Friends, is a Greek secret organization founded in Odesa in 1814 to liberate Greece from the Ottoman Empire. In 1821, the organization actually prepared the national liberation revolution of 1821-29.
As reported, Minister of Foreign Affairs of Greece Nikos Dendias makes a working visit to Ukraine on July 5.
ol