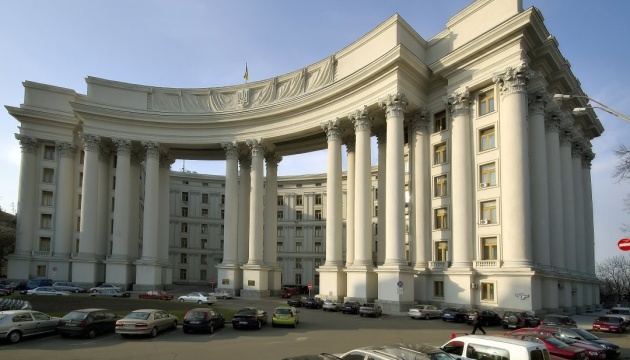 MFA comments on Lukashenko's decision to close border with Ukraine
The Ministry of Foreign Affairs of Ukraine does not confirm the information about the closure of the border with Belarus and rejects the accusation of Alexander Lukashenko about the alleged supply of weapons from Ukraine.
"Ukraine categorically rejects Alexander Lukashenko's accusation of alleged arms supply from Ukraine. We have never interfered in the internal affairs of Belarus. We are not going to do that in the future. We expect the same position from Minsk so that the northern border remains a safe space," Oleg Nikolenko, the Spokesperson for the Ministry of Foreign Affairs of Ukraine, told Ukrinform.
According to Nikolenko, Ukraine's policy is aimed at supporting the legitimate interests of the Belarusian people who deserve a decent life in a democratic country where human rights are respected and the rule of law exists.
"Instead, presenting Ukraine as an external threat fits with a policy of disinformation, repression, and intimidation of the Belarusian people. We are convinced that no absurd accusations and intimidation will be able to distract the Belarusian people from the friendly Ukrainian people and Ukraine as a state that respects and protects human rights," the Foreign Ministry Spokesperson added.
He stressed that the Ukrainian side had not yet received official notifications about closure of the border by Belarus. "First of all, the Belarusian people would suffer from such a step," Nikolenko added.
The State Border Guard Service of Ukraine also confirmed it had not received any official notifications from the Belarusian side regarding changes in border protection.
At a solemn meeting on the occasion of Belarus Independence Day, Alexander Lukashenko stated that he had instructed the Belarusian border troops to completely close the border with Ukraine.
Earlier, Lukashenko said that a large-scale "anti-terrorist operation" had been carried out in Belarus, as a result of which he would "lodge a complaint against the German leadership."
After Lukashenko had been declared the winner of the August 9 presidential election, mass protests began in Minsk and across the country. They are severely suppressed.
The legitimacy of the Lukashenko regime was not recognized by the EU, the United States, Ukraine, and most democracies around the world.
ol