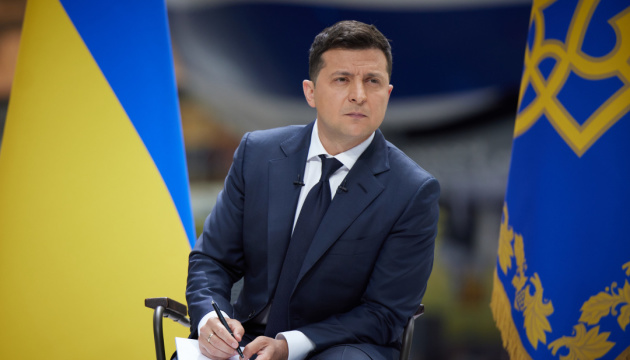 Zelensky sees statements on Ukraine's 'external management' as propaganda for consumers in Russia
Ukrainian President Volodymyr Zelensky has said that any statements about the so-called "external management" of Ukraine are just a propaganda mantra for internal consumers in Russia.
He stated this in an interview with Interfax-Ukraine, commenting on statements by Russian President Vladimir Putin.
"In my opinion, the facts are always more eloquent than any statements. It is the facts that need to be assessed. It is clear that the theses of any 'external management' are just a propaganda mantra for internal consumers in Russia itself. Because in the real world, all issues concerning Ukraine are resolved purely in Ukraine and by the Ukrainian state, and certainly not in any neighboring country, and certainly not by 'shadow mediators' who are currently under house arrest or on the wanted list," Zelensky said.
He said he was convinced that the Ukrainian state was currently working according to the principle of "nothing about Ukraine without Ukraine."
"The events taking place in the global political market only prove it. Moreover, my personal meeting with German Chancellor Angela Merkel will take place on July 12. At the end of July, there will be direct talks with U.S. President Joe Biden. I am also ready to meet with President Putin if he is really interested in resolving a number of crisis issues that objectively exist in bilateral relations between Ukraine and Russia. In any case, preparations for this difficult match are underway," he added.
At the same time, when asked whether he was "hurt" by Putin's phrase that "what's the point of talking to Zelensky if everything is decided in Washington," Zelensky said:" No, because I never live by stereotypes. It looks as if I would say, for example, 'Why should the Russians have the elections, direct democracy, if everything is decided exclusively in the Kremlin?'"
On Wednesday, June 30, commenting on the possibility of his meeting with Zelensky, Putin said that all issues on Ukraine are allegedly "resolved in Washington, Berlin and Paris." He also noted that MP Viktor Medvedchuk had allegedly been placed under house arrest "ahead of the election campaign."
op