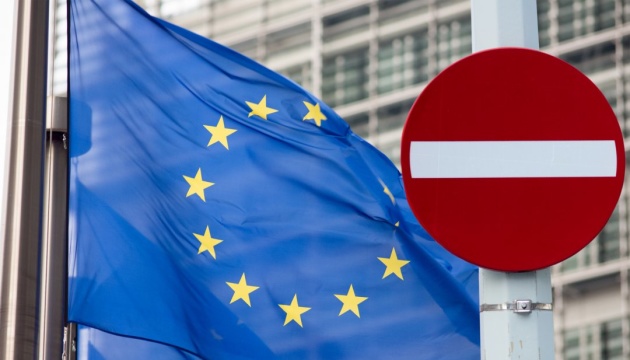 EU specifies application of sanctions concerning Ukraine's territorial integrity
The European Commission has adopted opinions on the application of sanctions over actions aimed against the territorial integrity of Ukraine.
"The European Commission has adopted three opinions on the application of specific provisions in the Council Regulations on EU restrictive measures (sanctions) concerning Libya and Syria, the Central African Republic and actions undermining the territorial integrity of Ukraine," reads the statement released on the European Commission's website.
All three opinions concern the procedure for imposing sanctions in the form of freezing the assets of individuals and legal entities on the sanctions list. In case of Ukraine, the opinions concern "the prohibition to make funds or economic resources available to listed persons."
As noted, Commission opinions are not binding on competent authorities or EU economic operators but are intended to offer valuable guidance to those who have to apply and follow EU sanctions.
"EU sanctions must be implemented fully and uniformly throughout the Union. The Commission stands ready to assist national competent authorities and EU operators in tackling the challenges in applying these sanctions," Mairead McGuinness, Commissioner for Financial Services, Financial Stability and Capital Markets Union, said.
The EU has about 40 different sanctions regimes currently in place. The Commission is responsible for monitoring the enforcement of EU financial and economic sanctions across the Union, and also ensuring that sanctions are applied in a way that takes into account the needs of humanitarian operators.
As reported, the EU imposed restrictive measures over the actions that undermine or threaten the territorial integrity, sovereignty, and independence of Ukraine on March 17, 2014, for the first time. On March 12, 2021, the Council of the EU extended the sanctions over the violation of Ukraine's territorial integrity for the next six months, until September 15.
Other restrictive measures taken by the European Union in response to aggression against Ukraine include sectoral sanctions on the Russian economy, which are reviewed every six months (currently in force until July 31, 2021). Another type of EU sanctions is restrictive measures in response to the occupation of Crimea and Sevastopol, which are in place on the peninsula and are currently in force until June 23.
ol