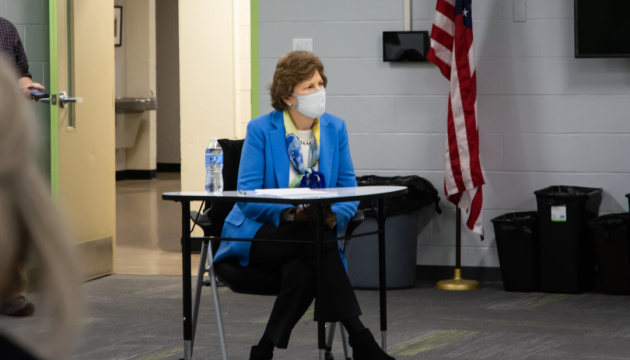 Additional sanctions on Nord Stream 2 may be approved this year – U.S. senator
The U.S. Congress will continue to look for ways to stop the construction of the Nord Stream 2 project and further actions if it is completed, as this project has serious consequences for Ukraine and Europe's energy security, U.S. Senator for New Hampshire Jeanne Shaheen (Democratic Party) has said.
She said this at a briefing following a meeting with President of Ukraine Volodymyr Zelensky in Kyiv on June 2, an Ukrinform correspondent reports.
The senator noted that there is a bipartisan opposition to Nord Stream 2 in Congress.
"Last year we approved a package of sanctions for this project and look forward to the adoption of additional sanctions this year. We believe that the Nord Stream 2 project has serious consequences for Ukraine, as well as for Europe's energy security in the future, as the completion of this project will give Russia a powerful weapon that can be used against Europe. We will continue to consider the means to influence the completion of this project, as well as its further operation after completion, because, as you know, before commissioning, it must obtain permits and licenses," Shaheen said.
She also reminded that elections will be held in Germany in the fall, and predicted that their results could affect other countries.
"That is, there will be further developments that will ultimately affect the completion of this project [Nord Stream 2]," the senator concluded.
As reported, on May 21, the Verkhovna Rada adopted a resolution calling on the U.S. Congress to intensify efforts to strengthen the energy security of Ukraine and Europe through the general introduction of sanctions against the construction of the Nord Stream 2 gas pipeline.
Ukrainian MPs emphasized that they highly appreciate the categorical position of the United States against the completion of the Nord Stream 2 pipeline. At the same time, they expressed concern that the U.S. Department of State report submitted to the U.S. Congress on May 19, 2021 and the proposed additional sanctions do not provide for action against Nord Stream AG, a key participant in the Nord Stream 2 project.
Nord Stream 2, a 1,200 km-long gas pipeline between Russia and Germany, is already 94% complete. A year ago, the pipeline's construction was suspended due to U.S. sanctions, but the Russian side resumed work on its own with the consent of the German side. However, recently, the new U.S. administration, in order to improve relations with the Federal Republic of Germany, somewhat softened its position by removing the Nord Stream 2 AG operator and its management from sanctions.
Ukraine regards Nord Stream 2 as one of the most dangerous geopolitical projects of Russia.
ish