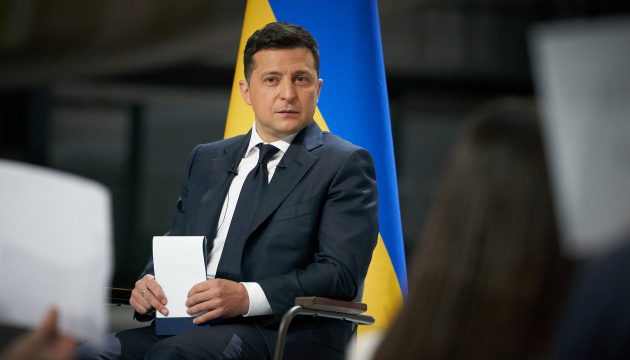 Zelensky not ruling out Russian military aggression from Belarus
Ukrainian President Volodymyr Zelensky has said he believes that the escalation of the situation by Russia is possible at any time until the end of September, as long as the West 2021 exercise continues, and he does not rule out measures from Belarus that can be dangerous for Ukraine.
He stated this in an interview with German newspaper Frankfurter Allgemeine Zeitung, the full text of which has been published on the website of the President's Office.
"My view is that escalation is possible at any time until the end of September, say, until September 12-16. We know that the West 2021 exercise will be held. Therefore, I believe that the situation is very dangerous by this time," Zelensky said.
He said that at the time of the escalation, 30,000-35,000 servicemen stayed in the temporarily occupied territories of Donetsk and Luhansk regions and between 50,000 and 80,000 servicemen were stationed along the borders of Ukraine and Russia and about 33,000-35,000 in Crimea.
He stressed that 30,000-35,000 militants and about 3,000 Russian officers were stationed in the temporarily occupied territories.
According to him, when Europe and the United States began to put pressure on Russia, the probability of escalation decreased, and about 3,500 soldiers left Crimea, but all the others remained, and 90% of military vehicles remained.
Zelensky believes that Russia has many military options, including naval operations.
"We are very concerned about this, and Russian ships are now blocking the Azov-Black Sea region. They control it, despite international law, in violation of it," he said.
In addition, he does not rule out that there could be an escalation from the occupied eastern part of Ukraine, "a big jump, a blitzkrieg to the borders of Donetsk and Luhansk regions."
At the same time, Zelensky stressed that there might be "surprises" from the other side.
"The situation in Belarus is very dangerous now. These are our northern borders. And we understand that Russia and Belarus are constantly considering and negotiating an important geopolitical and, probably, defense agreement. After that, there may be a really serious influence from Russia and serious coordination and control of the Belarusian armed forces. Then we can consider the risk from the other side. We are unaware of the details of this agreement on the creation of a union state," he said.
op