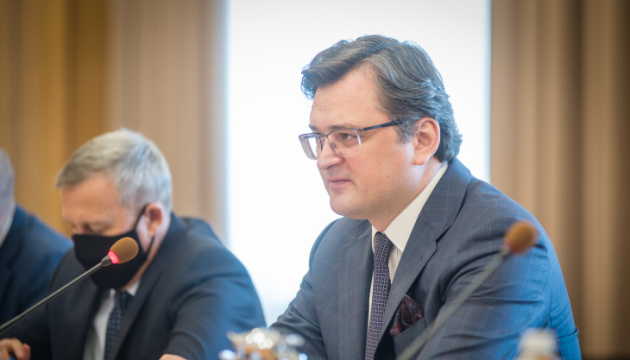 FM: Ukraine will continue to fight against Nord Stream 2 as it's not 100% complete
Minister of Foreign Affairs of Ukraine Dmytro Kuleba has stated that Ukraine will continue to fight against the completion of Nord Stream 2 pipeline as the project is not 100% complete.
"Nothing is complete until it is 100% complete. By the way, I told U.S. Secretary of State Antony Blinken about this during our meeting. And secondly, nothing is lost until the game is over," Kuleba said at a joint press conference with OSCE Secretary General Helga Schmid in Kyiv following the talks on May 26, an Ukrinform correspondent reported.
The minister stated that he had discussed Nord Stream 2 during a meeting with the OSCE Secretary General.
"Of course, now the builders of Nord Stream 2 have a much better chance to complete this project, but my rule in life is to always fight to the end for the national interests of Ukraine. And as long as gas does not flow through Nord Stream 2, we will fight to protect our interests," the foreign minister said.
As reported, U.S. President Joe Biden refused to extend sanctions against the pipeline because it is almost built. Currently, the project is 95% complete.
ol