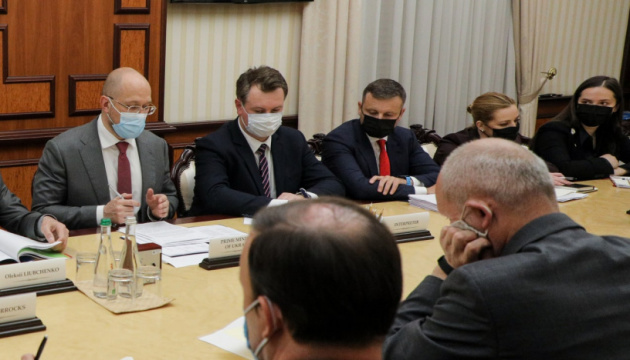 PM Shmyhal discusses implementation of reforms with EU, U.S., UK ambassadors
Prime Minister of Ukraine Denys Shmyhal discussed the progress of reforms in Ukraine with the heads of diplomatic missions of the European Union, the United States, and the United Kingdom.
"The meeting gathered together Head of the European Union Delegation to Ukraine Matti Maasikas, Chargé d'Affaires of the United States in Ukraine a.i. Kristina Kvien, Chargé d'Affaires of the United Kingdom in Ukraine Nicolas Harrocks, First Vice Prime Minister of Ukraine - Minister of Economy Oleksii Lyubchenko, Justice Minister Denys Maliuska, Minister of Finance Serhii Marchenko, and Minister of Energy Herman Halushchenko," the Government portal informs.
"Last week, the Verkhovna Rada passed at first reading the bills needed to receive macro-financial assistance and IMF tranche. The amendments for the second reading are currently being prepared. We hope that they will be adopted as a whole soon," Shmyhal said during the meeting.
The Prime Minister pointed out the importance of keeping in touch with Ukraine's partners on the implementation of all reforms, including anti-corruption, judicial, corporate governance, launch of gas and electricity markets.
In addition, Shmyhal noted that the bill on liability for false declaration of wealth had been submitted by the President of Ukraine and adopted at first reading last month. Also, the bill concerning the activity of the High Council of Justice was approved at first reading.
During the meeting, the parties discussed, in particular, corporate governance reform and the gas market operation. Shmyhal assured the heads of diplomatic missions that the launch of the gas market in Ukraine was irreversible.
ol