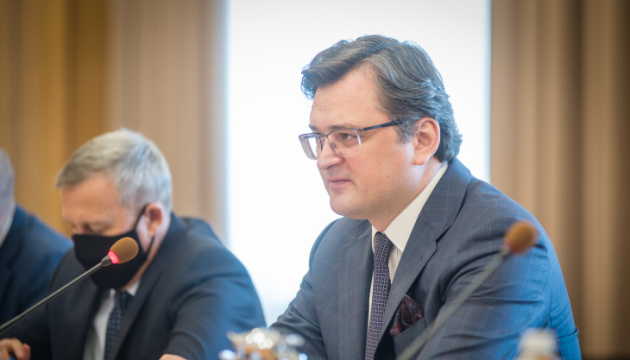 Kuleba explains why Ukraine banned flights to Belarus
Ukrainian Foreign Minister Dmytro Kuleba has said that Ukraine's decision to stop flights to Belarus was motivated by political and safety considerations.
He told this to the Dom television channel, according to Ukrinform.
He said the Belarusian authorities "have crossed another red line in relation not only to their citizens, but also to citizens of other countries and to international law."
"Of course, such actions cannot go unanswered, because if we let it go now, Alexander Lukashenko will go further tomorrow and do something even more brazen and cruel. Therefore, the answer must be very principled," Kuleba said.
He added that this ban means that planes will not be allowed to fly from Ukrainian airports to airports in Belarus and Ukrainian airlines will not be allowed to transit through Belarusian airspace.
"Why was this decision made? At first glance, it may seem political, and it is one. But it also concerns safety, because the actions of the Belarusian authorities are unpredictable, and we cannot assess in advance all the risks of being in Belarusian airspace. Therefore we have to care about the safety of Ukrainian citizens," the minister said.
He also noted that the European Union had made a similar decision. Therefore, Belarus will not receive transit funds from airlines, he said.
"I also want to emphasize that this decision will lead to a certain increase in revenues to Ukraine, because airlines of the European Union and other countries that previously flew over Belarus and paid respective funds to its budget will now fly through Ukraine and, accordingly, pay transit costs. But first of all, in this situation, of course, we care about the protection of our citizens and we want the Belarusian authorities to come to their senses, stop their arbitrariness and begin to respect human rights and international rules," Kuleba said.
The Cabinet of Ministers decided at an extraordinary meeting that Ukraine would suspend air travel with Belarus from 00:00 on May 26.
On May 23, Belarusian security forces detained the founder of the Telegram channel Nexta, Roman Protasevich, after they forced a Ryanair plane, on which he was traveling from Athens to Vilnius, to land in Minsk.
op