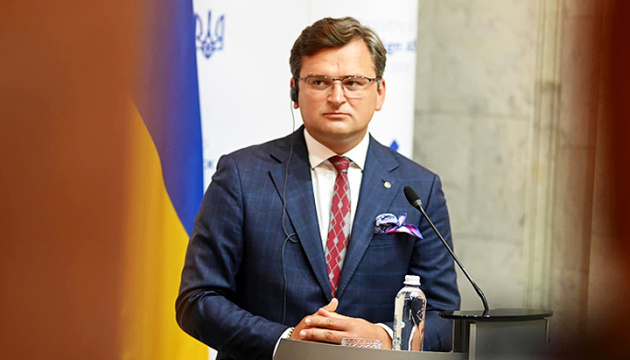 Kuleba, Ciocoi agree Russia should not use situation with ex-judge Chaus
Ukrainian Foreign Minister Dmytro Kuleba and his Moldovan counterpart Aureliu Ciocoi have agreed that Russia should not use the situation with former Ukrainian judge Mykola Chaus so as to quarrel the two countries.
Kuleba stated this at an online briefing on Tuesday, May 18, according to an Ukrinform correspondent.
"Yesterday, my Moldovan counterpart and I were absolutely unanimous that the situation with judge Chaus should never be used by a third party, namely the Russian Federation, in order to quarrel Ukraine and Moldova and create tension in our relations," he said.
He noted that the recently published video with Chaus was a newly discovered circumstance that needs further analysis.
Kuleba said he was convinced that the video recording "changes the picture of what Moldovan and pro-Russian media outlets have been writing about in recent weeks, imposing a different picture of reality on public opinion."
He added that Ukraine and Moldova would focus on the positive dynamics of relations between the two countries and on countering Russia's hybrid attacks.
Chaus's lawyer, Yulian Balan, said on April 3 that a group of unidentified gunmen had abducted the ex-judge in central Chisinau. The city police confirmed the report.
On Monday, May 17, a video was published in which Chaus says that he is safe and sound. The Moldovan prosecutor's office is studying the video.
Ciocoi and Georgian Foreign Minister David Zalkaliani made a joint working visit to Ukraine on May 17 at Kuleba's invitation.
op