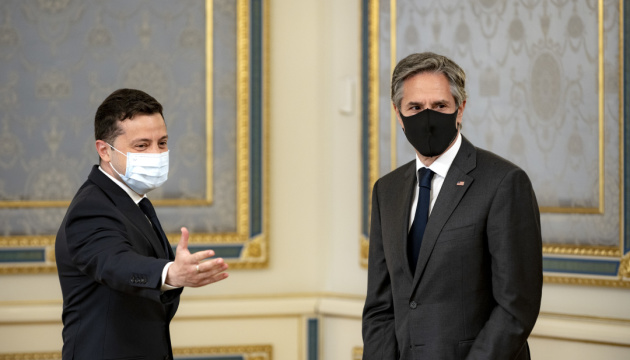 Blinken in Ukraine: Visit of geopolitical scale
U.S. delegation formed a detailed picture of situation in Ukraine in preparation for Biden-Putin summit
The visit by U.S. Secretary of State Antony Blinken to Ukraine goes beyond just bilateral relations between Kyiv and Washington and is, in fact, geopolitical in nature. It has become part of a complex game started by U.S. President Joe Biden in the face of a new Russian escalation. He called Russian President Vladimir Putin and proposed discussing all issues face to face. But at the same time, Blinken's visit has become an important foundation for further dialogue between Ukraine and the United States. After all, the U.S. Secretary of State's meetings in Kyiv gave him an opportunity to understand to what extent Ukraine is ready to implement Western standards. And this will determine the level of further support from the United States.
MESSAGE TO PUTIN
First of all, Blinken's visit to Ukraine is important in view of preparations for Biden's meeting with Putin, which is to take place in a European country this summer. First, the U.S. side was able to learn more about the situation in and around Ukraine. In addition, the U.S. delegation formed a detailed picture of the situation in Ukraine for further substantive talks with the Kremlin leadership - even at the stage of preparations for the Biden-Putin summit.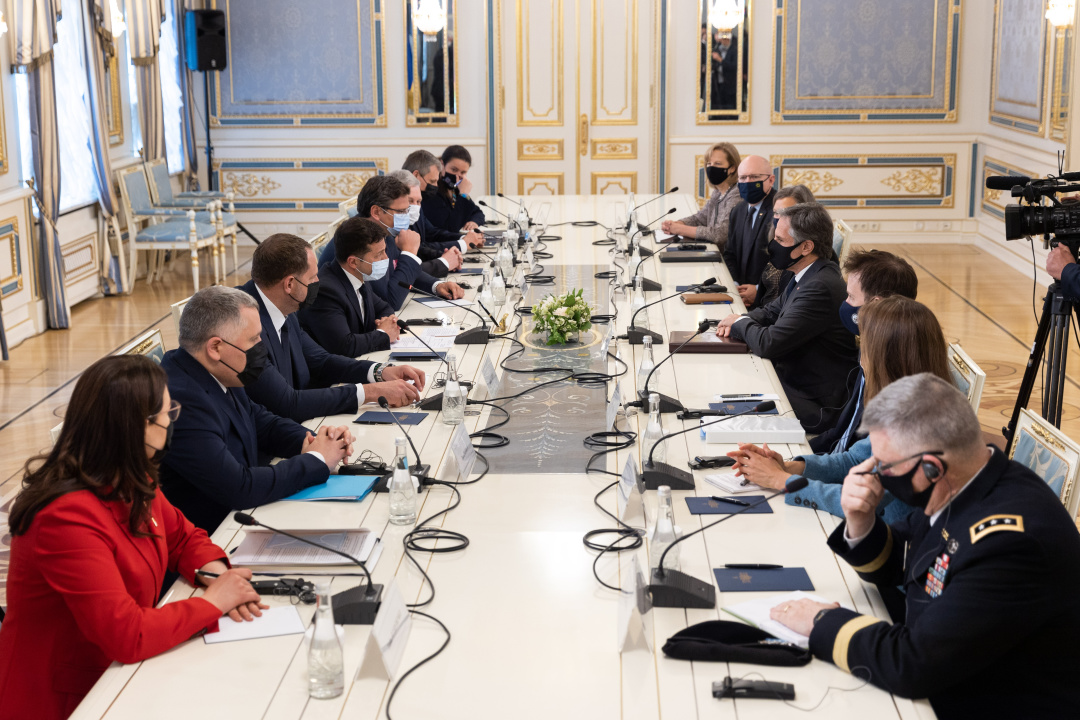 Photo: President's Office
Secondly, each such visit has a symbolic meaning. In this case, a clear message was sent to Moscow that U.S. support for Ukraine is not limited to statements and that Washington will not tolerate any new manifestations of aggression by Russia.
No matter how Moscow sees Biden's diplomatic statements about the United States' desire to avoid escalating tensions with Russia and establish constructive relations, Blinken's visit showed that ending aggression against Ukraine is one of the top items on the agenda.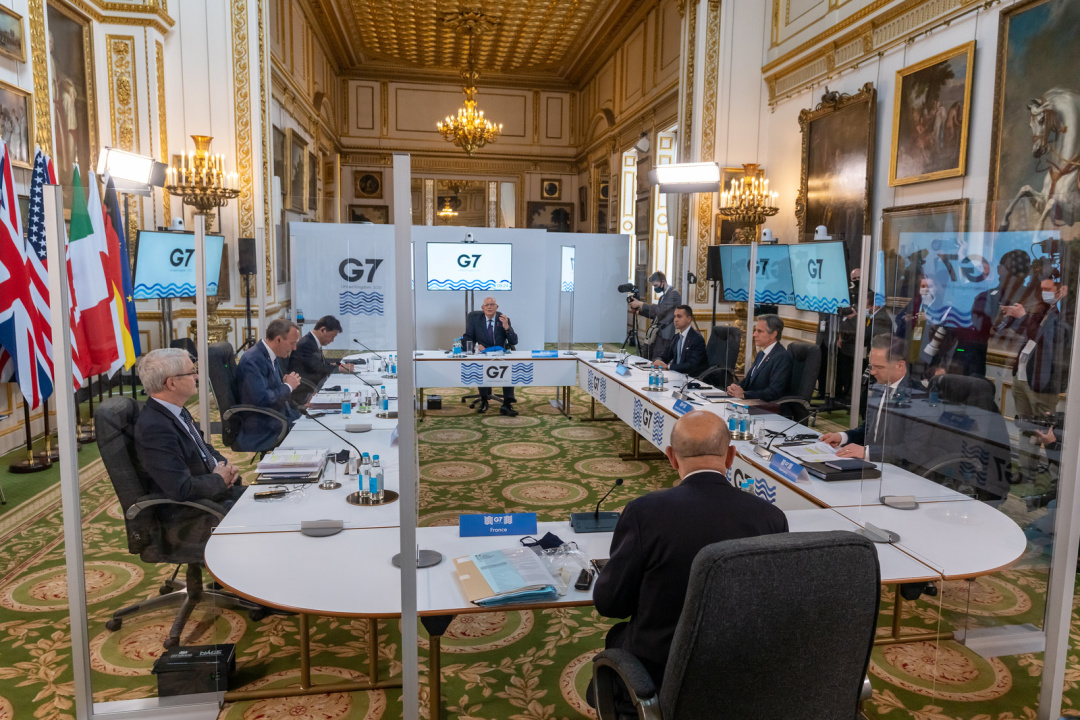 State Department photo by Ron Przysucha
Meanwhile, the United States is not limited to statements at the bilateral level - this issue was also discussed during the G7 meeting in the UK, from where Secretary of State Blinken arrived in Kyiv.
"I can tell you, Mr. President, that we stand strongly with you [Ukraine]," Blinken said at a joint press conference with Ukrainian President Volodymyr Zelensky in Kyiv on May 6.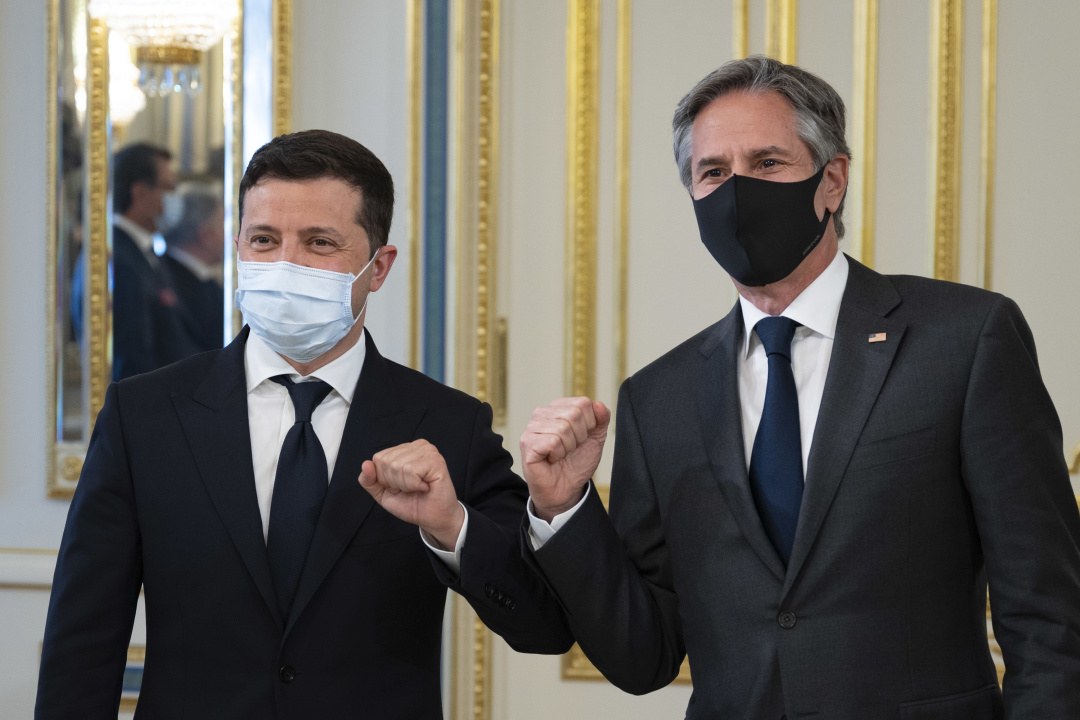 Photo: President's Office
In this context, he added that U.S. partners hold the same position. "I heard the same thing when I was at NATO a couple of weeks ago. And we look to Russia to cease reckless and aggressive actions," Blinken said.
CORRUPTION IS INTERNAL ENEMY
Another, no less important topic, which the U.S. delegation actively raised at most of its meetings in Kyiv concerns reforms and the fight against corruption in Ukraine. This issue was more than relevant for the United States under the previous Ukrainian administration, and it remains the same today.
"Ukraine faces twin challenges: aggression from outside coming from Russia, and in effect, aggression from within coming from corruption, oligarchs, and others who are putting their interests ahead of those of the Ukrainian people," Blinken said in Kyiv.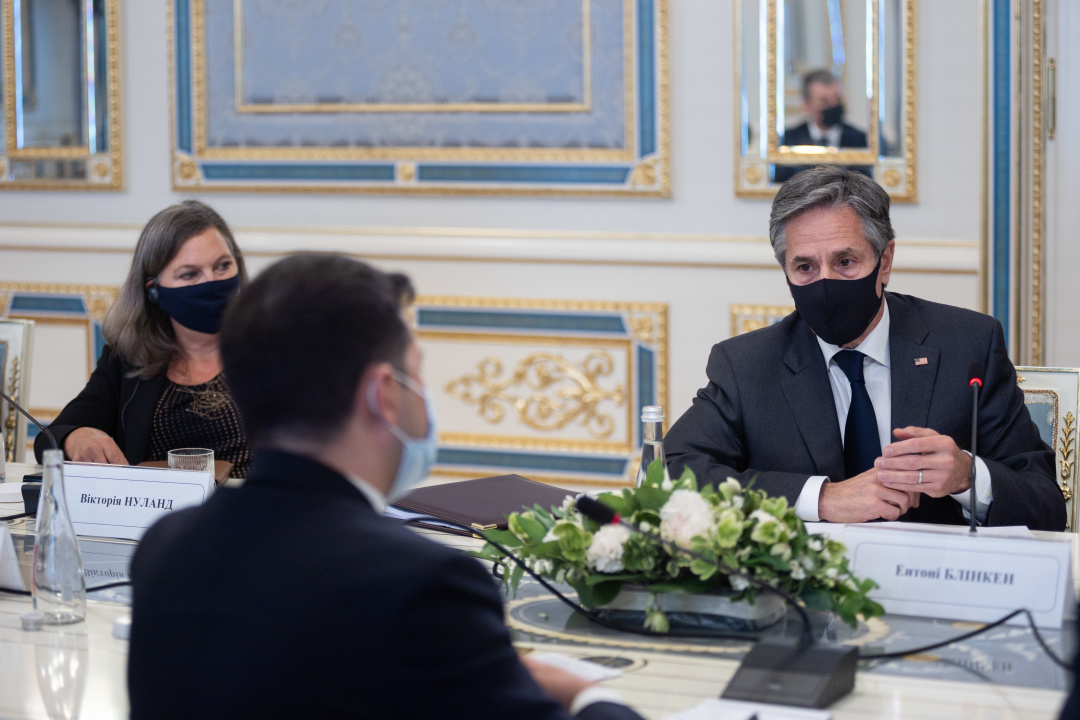 Photo: President's Office
It was important for the U.S. Secretary of State, who willingly supports Ukraine's aspirations to achieve Western standards, to feel in person whether the Ukrainian government is ready to take real steps in this direction. The United States obviously wants to see Ukraine's readiness for reform in order to achieve a strong democracy, a powerful civil society, and a growing economy. And this, according to the U.S. side, is no less important for Ukrainians than overcoming the Russian armed threat.
The United States' reaction to the change of management at Naftogaz of Ukraine was demonstrative in this context. Blinken also drew attention to this issue during his meetings in Kyiv, including with Zelensky. Just the day before, the situation with Naftogaz caused serious concern in Washington, where they made a harsh statement that such developments call into question the implementation of reforms in Ukraine. The United States pointed to the violation of "transparent corporate governance practices," which is one of the main principles of government accountability in the management of state-owned companies.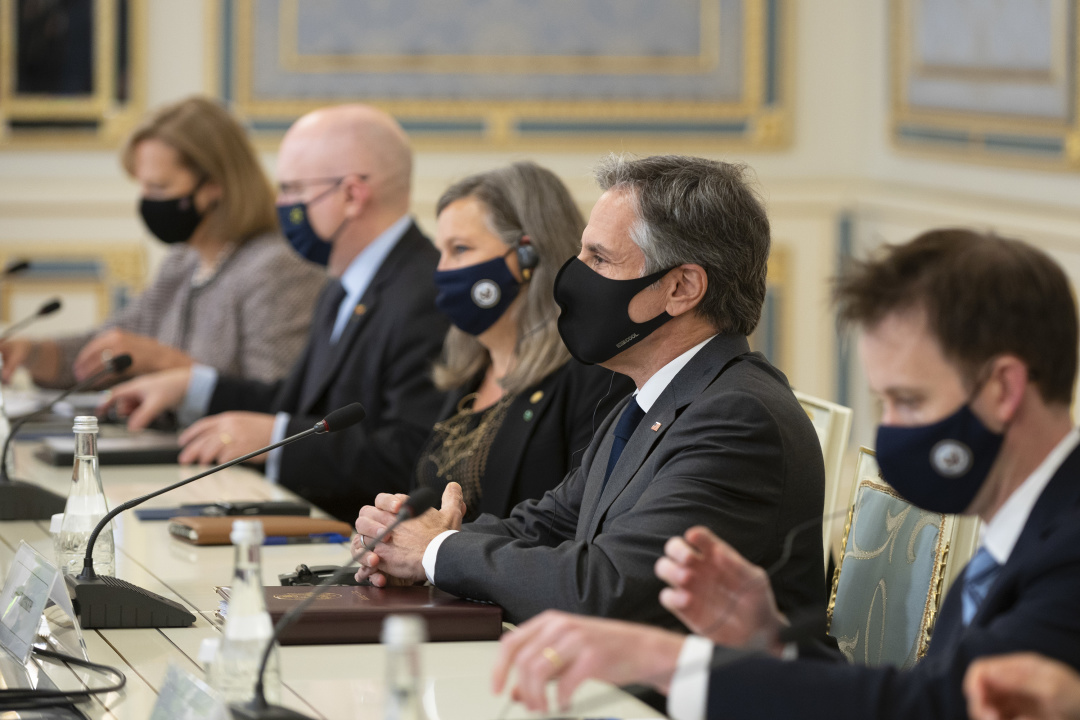 Photo: President's Office
THE BALL IS IN UKRAINE'S COURT
However, the United States has shown its willingness to help Ukraine implement reforms, strengthen the judiciary, eradicate corruption, and eliminate the influence of oligarchs.
Now, Washington officials say, the ball is in Ukraine's court. In this regard, it is important that the U.S. side interacts not only with the government but also with the Ukrainian opposition and civil society representatives to achieve the maximum result from joint efforts. This can be considered a proven method of the U.S. administration, which justifies itself in countries where there is a democratic change of government. The United States believes that working with the government, the opposition, and the public at the same time gives an understanding by all the major drivers of what a country needs for its development.
Blinken's personal meeting with the head of the Orthodox Church of Ukraine, Metropolitan Epiphanius, was no less significant. By doing so, he expressed U.S. support for the Orthodox Church of Ukraine against the backdrop of Russia's active attempts to use its church as an instrument of influence and discord, including in Ukraine.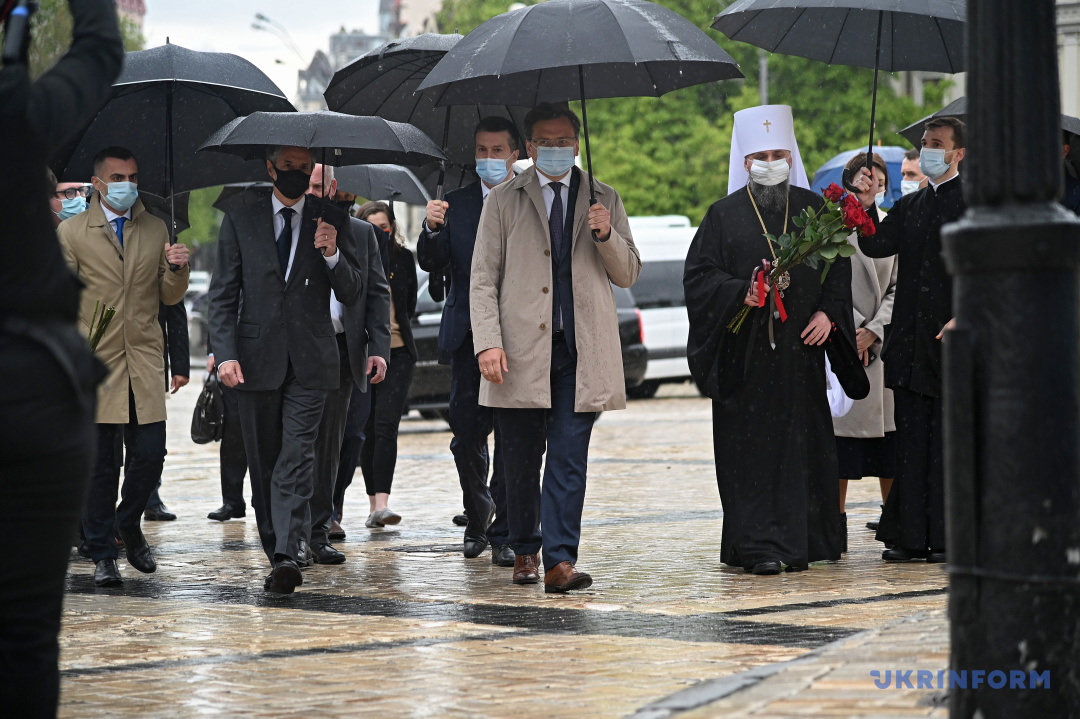 In any case, the U.S. Secretary of State's visit to Kyiv should be considered a positive development for Ukraine, which is countering Russia's hybrid aggression from the outside and is combatting an equally dangerous enemy from the inside - corruption and the influence of oligarchs. It must be understood that Antony Blinken is not just the head of the U.S. Department of State. He has long been Joe Biden's right-hand man in foreign policy, since his time in the U.S. Senate. This means that Biden will trust all the conclusions and assessments that Blinken brings from Ukraine and will take them into account in preparation for his meeting with Putin.
In this context, it is important for Ukraine to continue to be seen in the United States and the West as a key and reliable partner that restrains Russia's armed aggression in Europe and also truly seeks to become part of the civilized West.
Yaroslav Dovgopol, Washington
First photo: President's Office