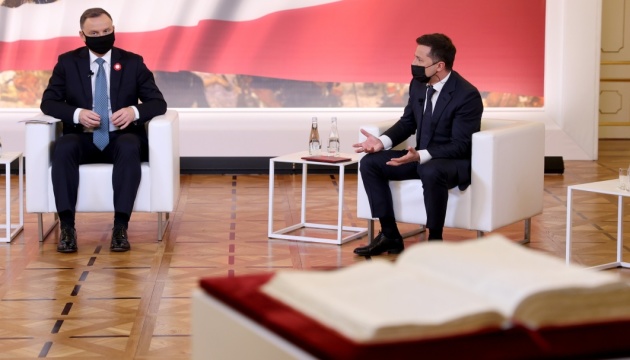 Poland and other NATO countries support granting Ukraine MAP – Duda
Poland and Ukraine's other NATO friends support the provision of a NATO Membership Action Plan (MAP) to Ukraine in the near future.
President of the Republic of Poland Andrzej Duda said this during a joint briefing with President of Ukraine Volodymyr Zelensky in Warsaw on May 3, an Ukrinform correspondent reports.
"We also discussed [with the president of Ukraine] the upcoming NATO summit to be held in Brussels in mid-June ... The summit participants will discuss a formal definition of the path which Ukraine should follow towards membership in the North Atlantic Alliance - a roadmap to this membership," Duda stressed.
According to him, this is now "a fundamental cause" for which Ukraine is fighting. Poland and "other friends from this part of Europe" support Kyiv on this path.
The Polish president noted that the NATO summit will also discuss the buildup of Russia's military presence near the borders with Ukraine.
In a week the Romanian capital will host a summit of the leaders of the Bucharest Nine (Eastern European NATO member states: Bulgaria, Estonia, Latvia, Lithuania, Poland, Romania, Slovakia, Hungary, and Czech Republic) to discuss security issues, Duda said.
"I think that Ukraine and Belarus will be very important topics, especially Ukraine and the Russian presence near the borders of Ukraine," the Polish leader emphasized.
As Ukrinform reported, President Volodymyr Zelensky said that Ukraine would find out at the NATO summit in June which member countries supported the proposal to grant Ukraine a Membership Action Plan (MAP).
On May 3, the presidents of Ukraine, Poland, Lithuania, Latvia, and Estonia met in Warsaw to celebrate the 230th anniversary of the adoption of the 3 May Constitution.
ish