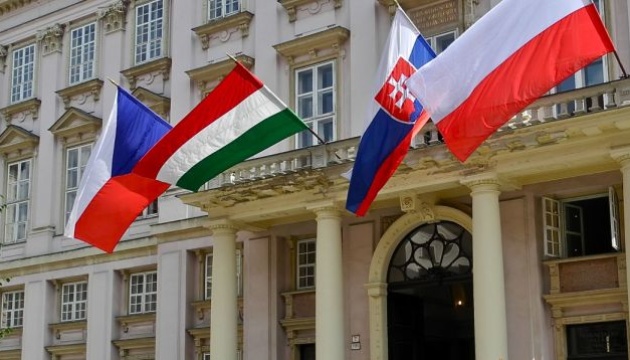 Visegrad Group supports territorial integrity of Eastern Partnership countries
The Visegrad Group countries reaffirmed their support for the territorial integrity of the Eastern Partnership countries, the Ukrainian Foreign Ministry's press service reports.
First Deputy Foreign Minister of Ukraine Emine Dzheppar took part in a meeting of the Ministers of Foreign Affairs of the Visegrad Group (V4) and Eastern Partnership (EaP) countries on April 29.
The meeting was also joined by the foreign minister of Portugal as Presidency of the Council of the European Union, as well as the foreign ministers of Finland and Sweden. The EU institutions were represented by the Commissioner for Neighborhood and Enlargement and the Secretary-General of the European External Action Service (EEAS).
The event took place within the framework of Poland's Presidency of the Visegrad Group and in the context of preparations for the 6th Eastern Partnership Summit, scheduled for this autumn.
The key topics of discussion were security issues in the Eastern Partnership region, overcoming the consequences of the COVID-19 pandemic, the EU countries' support for reforms and economic development in the EaP partner countries.
In her speech, Dzheppar emphasized the urgency of the strategic renewal of the Eastern Partnership, which should develop taking into account the European aspirations and ambitions of its participants. In this context, the official focused on the common expectations of the three associated partners – Ukraine, Georgia, and Moldova – regarding a significant expansion of interaction with the EU within the EaP based on the principle of differentiation.
She outlined a set of common security threats to the EaP states, which are primarily caused by the aggressive and hybrid actions of the Russian Federation. Dzheppar called on the participants of the meeting to show solidarity in defending the sovereignty and territorial integrity of the Eastern Partnership states and deeper cooperation in strengthening security.
The Visegrad Group countries reaffirmed their support for the territorial integrity of the Eastern Partnership countries within their internationally recognized borders, condemned Russia's attempts to illegally occupy the Autonomous Republic of Crimea and the city of Sevastopol, Russian aggression against Ukraine, as well as Russia's occupation of Georgian territories, and human rights violations in Belarus.
The meeting participants stressed the importance of the EaP initiative for stability, security and economic prosperity in the region, and the rapprochement of partner states with the EU. They noted that the political and economic integration of the EaP countries with the EU remains the main goal of the partnership, which should develop on the basis of common values enshrined in the Joint Declaration of the Prague Eastern Partnership Summit in 2009.
As Ukrinform reported, on April 26, the prime ministers of the Visegrad Group countries (Poland, Slovakia, Hungary, and Czech Republic) adopted a declaration fully supporting the actions of official Prague to declare 18 Russian intelligence officers who acted under diplomatic cover persona non grata.
ish