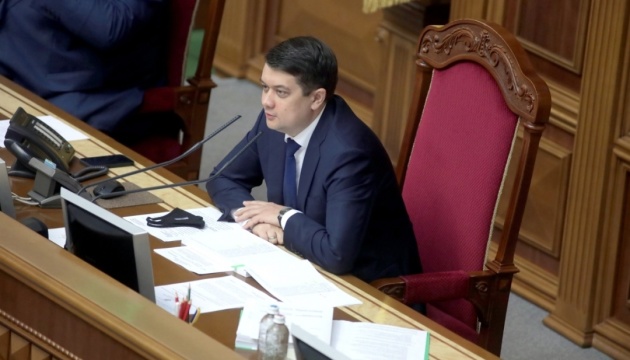 Razumkov sees no grounds for dissolution of parliament
Verkhovna Rada Chairman Dmytro Razumkov has said that there are currently no grounds to dissolve the Ukrainian parliament.
He said this at a briefing in the Verkhovna Rada on Thursday, April 29, according to an Ukrinform correspondent.
"In the Verkhovna Rada of Ukraine of the ninth convocation, there was never a time that it did not hold scheduled meetings. We discussed this Constitutional Court ruling [which provides for the dissolution of parliament if it does not meet for more than 30 days within one session] with all parliamentary factions and groups. To be objective, it cannot be the case today. Therefore, to be honest, I do not see these grounds, and it is hardly possible to go against the decisions of the Constitutional Court," Razumkov said.
First Deputy Chairman of the Verkhovna Rada Ruslan Stefanchuk earlier said in an interview with the Ukrayinska Pravda news site that the head of state now had one formal reason to dissolve the parliament - the Verkhovna Rada did not hold meetings for more than 30 days from December 2020 to January 2021.
At the same time, he said he did not know whether the president would use such a right. Stefanchuk clarified that no talks were held with him about the dissolution of the Verkhovna Rada and that he was not present at such talks.
op