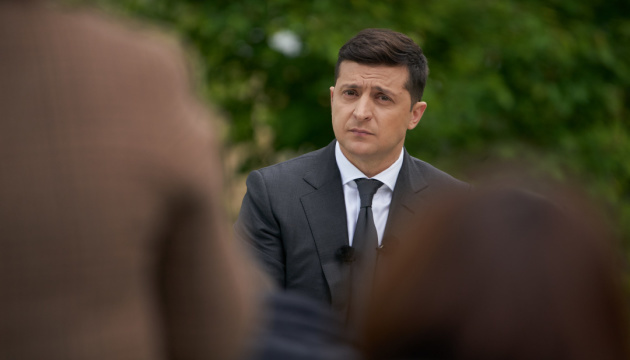 Zelensky: Meeting with Putin is needed to end war in eastern Ukraine
Ukrainian President Volodymyr Zelensky has said that his meeting with Russian President Vladimir Putin is needed to end the war in eastern Ukraine.
He said this in an interview with the Italian newspaper La Repubblica, the translation of which was published on the website of the President's Office, according to Ukrinform.
"The meeting will definitely take place. It is needed in order to end the war in the Donbas and go all the way to a fair and lasting peace. But what should be the agenda during these negotiations? What steps will lead us to peace? Where and when will these steps be agreed upon? These are open questions, and I think we will get the answers to them as soon as direct consultations begin between the President's Office of Ukraine and the Presidential Administration of Russia," Zelensky said.
He recalled that for his part he had already given respective instructions to the head of his office, Andriy Yermak.
"It is clear that there has been no real direct communication between Ukraine and Russia for a long time. This certainly does not contribute to constructive negotiations. So it seems to me that the meeting should take place in a territory that embodies peace and dialogue. In my opinion, the right place for an extremely complex dialogue about peace will help resolve the issue," Zelensky said.
On April 20, Zelensky addressed Putin, inviting him to meet "in any part of the Ukrainian Donbas where war is ongoing."
On April 22, Putin said he was ready to meet with Zelensky in Moscow, but he added that the issue of ending the war in eastern Ukraine would be discussed only after the Ukrainian authorities hold talks with "DPR and LPR leaders."
On April 26, Zelensky said he had instructed the head of his office, Andriy Yermak, to hold talks with representatives of the Russian presidential administration about a possible meeting with Putin.
op