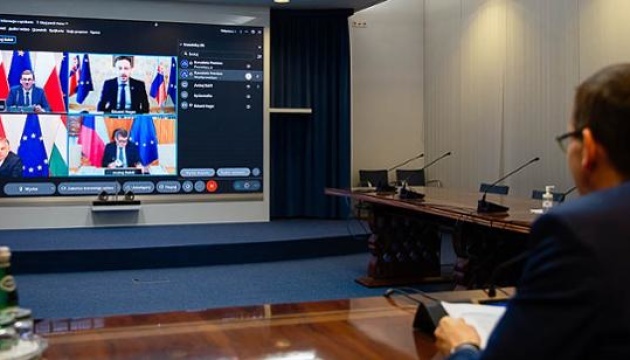 Visegrad Group: Russia's aggressive actions will cost it dearly
The countries of the Visegrad Group (Poland, Czech Republic, Slovakia, and Hungary) fully support the actions of official Prague to declare 18 Russian intelligence officers who acted under diplomatic cover persona non grata, and offer it their support.
This was said in a declaration adopted by the prime ministers of the Visegrad Group countries following an emergency online meeting on April 26, an Ukrinform correspondent reports.
"We, the prime ministers of Poland, Czech Republic, Slovakia, and Hungary, express our complete solidarity with the Czech Republic, our close partner and neighbor, in connection with the participation of Russian intelligence officers in the actions that led to the explosion at arms depots in Vrbetice in 2014, as well as the disproportionate measures taken by Russia in response to the Czech Republic's fully justified decision to expel 18 Russian intelligence officers from its territory, and offer the Czech Republic our diplomatic and consular support," reads the declaration published on the official website of the Government of the Republic of Poland.
The document condemns the illegal and brutal actions of Russian intelligence officers.
"We will not allow these actions to divide Europe. The Visegrad Group countries are determined to take action to strengthen our resilience together with other EU Member States," the declaration says.
The prime ministers also stressed the need to reduce dependence on Russia in the energy sector and "the need to convince German partners that the construction of Nord Stream 2 is a harmful project."
According to First Deputy Foreign Minister of Poland Szymon Szynkowski vel Sęk, the Visegrad Group countries within the EU and NATO will take steps to convince Russia that attacks on Western democracies and other countries "will cost it dearly, and this price will continue to rise."
As reported, a diplomatic war between Russia and Western countries has been going on in recent weeks. In particular, the United State, Czech Republic, Poland, Slovakia, Lithuania, Latvia, and Estonia expelled Russian diplomats for actions that contradict their diplomatic status. Russia gave a mirror-like response, declaring diplomats from these countries persona non grata.
On April 22, Russian Defense Minister Sergei Shoigu ordered the General Staff of the Russian Federation and commanders to withdraw troops, which have recently been moved to Ukraine's borders, to their permanent bases.
ish