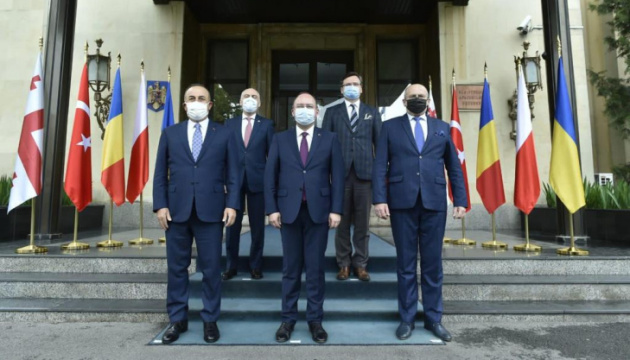 NATO's eastern flank countries support Ukraine's Euro-Atlantic aspirations – Kuleba
Minister of Foreign Affairs of Ukraine Dmytro Kuleba says the countries of NATO's eastern flank – Romania, Poland, and Turkey – support Ukraine and its Euro-Atlantic aspirations.
This was reported by the Ministry of Foreign Affairs of Ukraine following the consultations of the foreign ministers of Ukraine, Georgia, Romania, Poland, and Turkey in Bucharest on Friday, April 23.
The five foreign ministers discussed in detail the issues of regional security in the context of Russia's aggressive actions, the prospects for NATO enlargement, and the support of Allied partners.
The Allies on NATO's eastern flank reaffirmed the need to maintain a stable and secure space in NATO's immediate neighborhood and noted the importance of dialogue with Ukraine and Georgia, in particular on Black Sea security.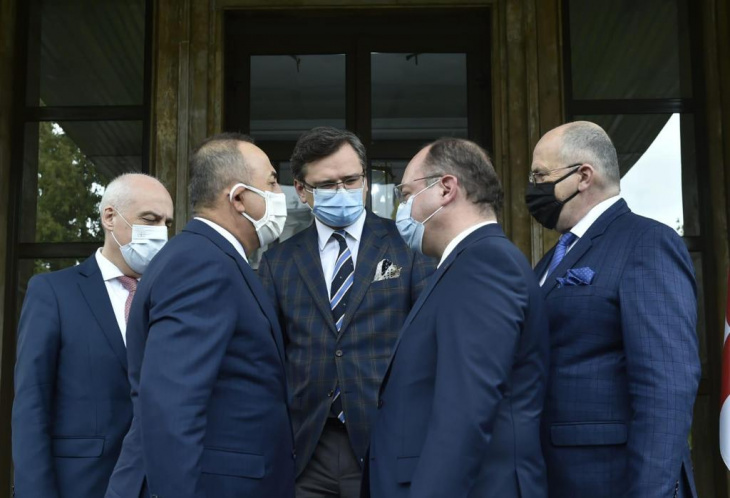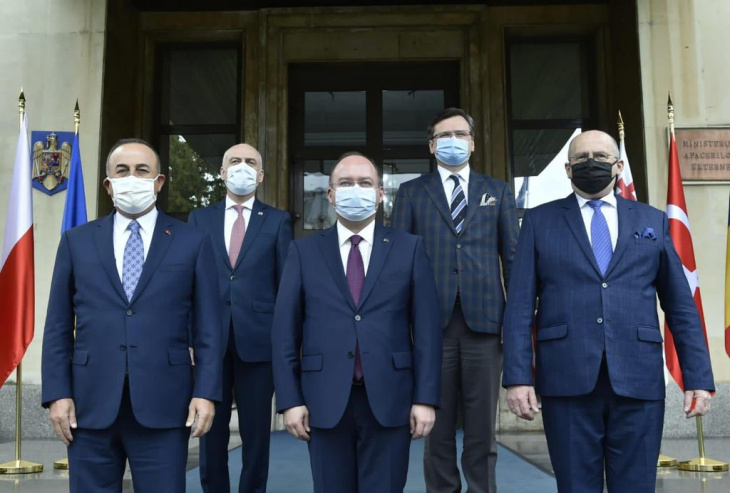 Kuleba drew the partners' attention to the fact that the current escalation by the Russian Federation is systemic and the largest in recent years, and poses a threat to the European security system and the Black Sea region. He expressed gratitude to the partners for the decisive and timely response to Moscow's escalating tensions, which, among other things, influenced the Kremlin's decision to begin withdrawing troops from Ukraine's border.
The Ukrainian foreign minister drew special attention of the meeting participants to Russia's blocking of the Kerch Strait, which grossly violates the UN Convention on the Law of the Sea. According to him, such actions pose a threat to Ukraine's national security and undermine economic stability in the Sea of Azov region.
Kuleba called for increased cooperation between the navies of Ukraine, Georgia, and NATO member states in the Black Sea region.
Separately, he dwelled on preparations for an inaugural summit of the Crimean Platform, confirmed the invitation to partners to participate in the summit and further work of the Platform.
The parties also discussed ways to deepen interaction with NATO in the context of implementing the course of Ukraine and Georgia towards Euro-Atlantic integration.
As Ukrinform reported, on April 23, Ukraine took part for the first time in a working meeting of the foreign ministers of the three NATO member states - Poland, Romania, and Turkey.
Photo credit: Ministry of Foreign Affairs of Ukraine
ish