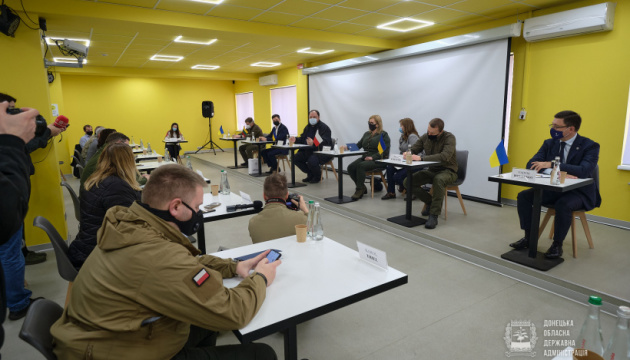 MPs of Poland and Lithuania visit Mariupol
Members of Parliaments of Poland and Lithuania, who arrived in Donetsk region on April 21, have again expressed their support for Ukraine.
They said this during a meeting with Ukrainian MPs in Mariupol on Wednesday, the press service of Donetsk Regional State Administration reports.
In particular, Deputy Speaker of the Polish Sejm Małgorzata Gosiewska and Deputy Speaker of the Lithuanian Seimas Paulius Saudargas visited Donetsk region. The meeting was also attended by First Deputy Speaker of the Verkhovna Rada of Ukraine Ruslan Stefanchuk, Deputy Minister of Defense of Ukraine Oleksandr Polishchuk, Head of Donetsk Regional State Administration Pavlo Kyrylenko, and representatives of the Joint Forces Command.
Gosiewska noted that the decision to visit Ukraine was made as soon as the alarming news of the aggravation of the situation in Donbas began to reach Poland.
"We fill the Lublin Triangle (Ukraine, Poland, and Lithuania) with practical content… Yes, we stand together because, as the old saying goes, a friend in need is a friend indeed. Ukraine is not only the closest neighbor and economic partner, but also a friend. And now the most important thing is solidarity with Ukraine and support for it," she said.
In turn, Saudargas also expressed solidarity with Ukraine and his Polish counterpart. "We will continue to support Ukraine, support sanctions and continue our mission to help Ukraine," he said.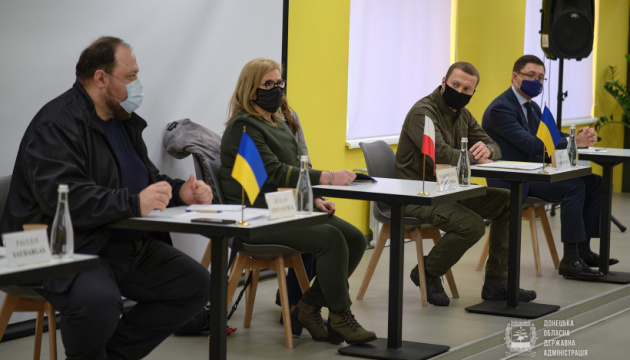 In the end, Stefanchuk thanked the deputy speakers of the parliaments of Poland and Lithuania for their solidarity with Ukraine in countering Russian aggression. "Ukraine always knows that Poland and Lithuania are our reliable allies, and I believe that by joint efforts we will stop Russia's armed aggression," he said.
Stefanchuk also stressed that the Crimean Platform is opening today and called on representatives of the international community to join it.
As Ukrinform reported, European officials will pay a working visit to Donetsk region on April 21 to personally see and assess the situation in eastern Ukraine, discuss issues of inter-parliamentary security cooperation and countering Russian aggression.
The Russian armed forces have recently been building up troops near the state border of Ukraine in the north, east and south, as well as in occupied Crimea. In addition, the number of ceasefire violations by the armed formations of the Russian Federation in eastern Ukraine has increased; there are losses among the soldiers of the Armed Forces of Ukraine. At the same time, the Russian Federation is conducting a propaganda campaign to justify possible aggression against Ukraine.
The Lublin Triangle is a trilateral format of interaction among Ukraine, Lithuania and Poland, created by the foreign ministers of these countries in July 2020. The purpose of the format is to support Ukraine's integration into the European Union.
ish