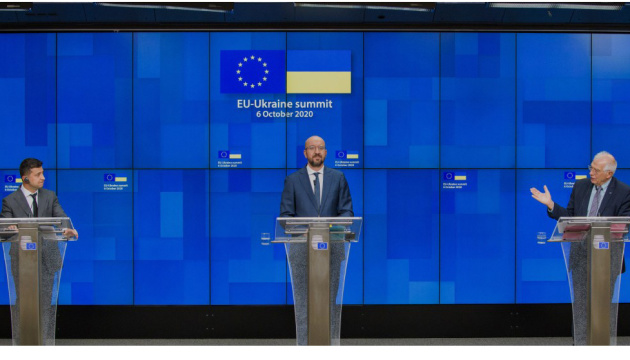 Borrell, Michel confirm participation in Crimean Platform summit
EU High Representative for Foreign Affairs and Security Policy Josep Borrell and European Council President Charles Michel have confirmed their participation in the first Crimean Platform summit scheduled for August 23 this year in Kyiv.
Borrell wrote about this in his blog following an informal meeting of EU foreign ministers on April 19, during which European officials discussed the situation in and around Ukraine with the participation of Ukrainian Foreign Minister Dmytro Kuleba.
The full text of the EU High Representative's blog was published on the European External Action Service website.
"President Michel and myself have confirmed our participation in the Summit on the International Crimean Platform planned for 23 August in Kyiv, which will be an important occasion to keep the spotlight on the illegal annexation of Crimea as well on our broader support for Ukraine," reads the report.
Borrell noted that against the background of rapidly growing tensions around Ukraine, EU foreign ministers sent a clear signal of their collective support for Ukraine's sovereignty and territorial integrity in front of Russia's military deployment and its continued negative actions and provocations.
He reminded that for years now, Ukraine has been facing Russian aggression. Kyiv's steps towards conflict resolution are not reciprocated by Moscow. "What is especially worrying is the military build-up in the proximity of the Ukrainian border and in the illegally annexed Crimea. There are more than one hundred thousand Russian troops amassed. With G7 partners, we have called on Russia to stop this dangerous escalation," Borrell stressed.
The EU High Representative commended Ukraine for its restrained response. "We must continue to urge Russia to de-escalate and defuse tensions, and we should all push back on Russia's attempts to portray itself as a mediator, rather than a party to the conflict," he noted.
In addition, EU foreign ministers reiterated their strong support to Ukraine's sovereignty and territorial integrity and their insistence on the need for the full implementation of the Minsk agreements.
The Russian armed forces have recently been building up troops near the state border of Ukraine in the north, east and south, as well as in occupied Crimea. In addition, the number of ceasefire violations by the armed formations of the Russian Federation in eastern Ukraine has increased; there are losses among the soldiers of the Armed Forces of Ukraine. At the same time, the Russian Federation is conducting a propaganda campaign to justify possible aggression against Ukraine.
As a reminder, Crimean Platform is a new consultative and coordination format initiated by Ukraine to improve the efficiency of the international response to the occupation of Crimea, respond to growing security challenges, step up international pressure on Russia, prevent further human rights violations, protect victims of the occupying power and to achieve the de-occupation of Crimea and its return to Ukraine.
The Crimean Platform is to be launched officially at an inaugural summit in Kyiv on August 23, 2021.
ish