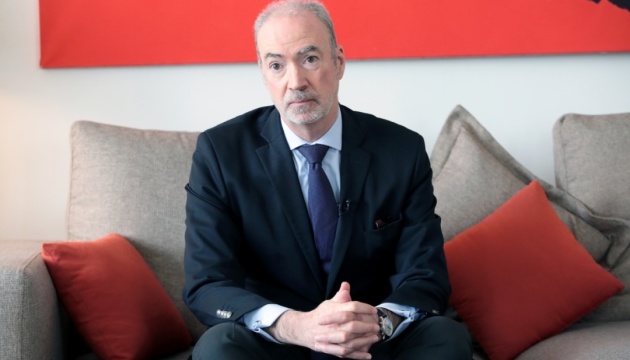 France, Germany take into account 'Ukraine's red lines' when developing 'clusters' - Ambassador de Poncins
French Ambassador to Ukraine Etienne de Poncins has said that while developing the project of "Key Clusters for the Implementation of the Minsk Agreements," France and Germany take into account Ukraine's position on "red lines" in resolving the armed conflict in the east of the country.
The diplomat stated this in an interview with Ukrinform.
"I really see that sometimes there are reports in the press about certain betrayal, about the possibility of crossing certain 'red lines' [when agreeing on 'key clusters']. In my opinion, this is an exaggeration being used by the media in pursuit of a sensation. As mediators, we respect Ukraine's position on these sensitive issues, we are fully aware of the 'red lines' that exist for Ukraine, and we try to take them fully into account," de Poncins said.
He also added that when it comes to the project of "key clusters," the same confidentiality is needed as in any negotiation process.
"I would like to note that the leak of information about the clusters in the press did not come from Germany and France; it came from the Russian side," the ambassador said.
According to him, the task of Germany and France is to facilitate meetings in the Normandy format, because there are currently no other opportunities for direct communication between Ukraine and Russia.
"Our priority with Germany is also to promote the success of these talks, and it was once again emphasized by our president and the German chancellor in Paris last Friday," de Poncins said.
During a video conference on April 19, advisers to the leaders of Ukraine, France, Germany and Russia agreed to continue work at the next meetings to agree on clusters designed to ensure the implementation of the Minsk agreements.
On March 24, the Russian newspaper Kommersant published an article revealing the essence of the prepared German-French project "Key Clusters for the Implementation of the Minsk Agreements" with proposals from the Ukrainian and Russian sides on their vision of resolving the situation.
Oleksiy Arestovych, the information policy adviser of the Ukrainian delegation to the Trilateral Contact Group, said the content of the Minsk negotiation documents on key clusters for the implementation of the Minsk agreements, currently being discussed in the Trilateral Contact Group, was not disclosed before their signing at the request of France, Germany, and the OSCE.
Head of the Ukrainian President's Office Andriy Yermak said that Russian media outlets were spreading a version of events as part of peace talks in eastern Ukraine, which is advantageous to the Russian side.
op