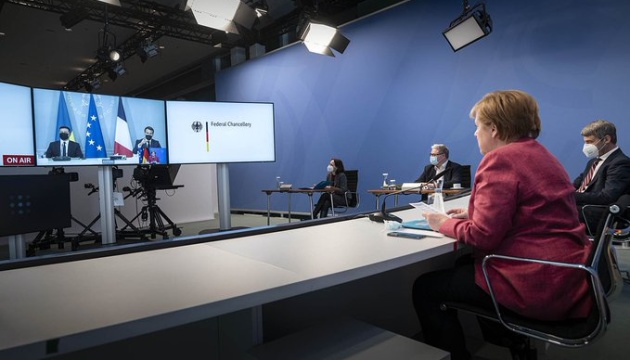 Merkel, Zelensky, Macron call on Russia to withdraw troops from Ukraine's border
German Chancellor Angela Merkel, President of Ukraine Volodymyr Zelensky, and President of France Emmanuel Macron discussed the security situation on the Ukrainian-Russian border and expressed concern over Russia's build-up of troops.
"The Chancellor, President Macron, and President Zelensky discussed, first of all, the security situation on the Ukrainian-Russian border, as well as in eastern Ukraine. They share concerns about the build-up of Russian troops on the border with Ukraine and in the annexed Crimea," an Ukrinform correspondent reported with reference to German government spokesperson Steffen Seibert.
The leaders of the three countries, he said, called on Russia to reduce its military presence in order to de-escalate the situation.
The Chancellor of Germany and the President of France also reaffirmed their support for Ukraine's independence, sovereignty and territorial integrity, Seibert said.
They pointed out the need for full implementation of the Minsk Agreements by both sides and said that Germany and France would continue their efforts within the Normandy format, the spokesman added.
As reported, Zelensky made a visit to France on April 16 against the background of a sharp escalation of the situation on the Ukrainian-Russian border, where Russia pulled a record number of its soldiers and equipment since 2014.
Merkel joined Zelensky and Macron's talks at the Élysée Palace via video conferencing.
ol