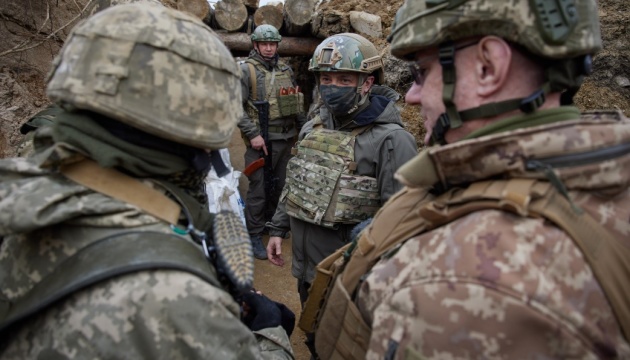 Zelensky: Ukraine is ready for Russian invasion
President Volodymyr Zelensky says that Ukraine is ready for Russian invasion that can happen every day.
"Of course. We know it [the possibility of Russia's invasion], from 2014 we know it can be each day. They [Russians] are ready, but we are also ready because we are on our land and our territory," Zelensky told CNN during his visit to the front lines.
According to Zelensky, fighters on the front lines should also know that they have political support.
"If I visit a military base, the guys at the very front will hear about it and think I forgot about them. They need to know they have political support," the President added.
The Head of State also notes that if the United States sees Ukraine in NATO, this should be backed up by action.
"If they [the US] see Ukraine in NATO, they have to say it directly, and do it. Not words," Zelensky summed up.
As reported, President Volodymyr Zelensky made a two-day working trip to Donbas last week and visited the combat positions, which sustained the greatest losses since the beginning of the year.
ol