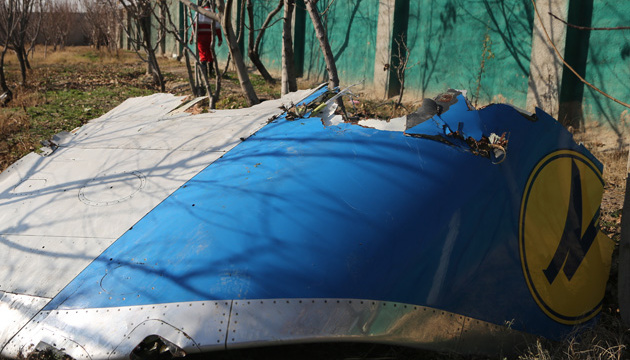 Yenin on UIA plane crash: Iran hasn't disclosed names of indicted officials
Ukraine does not know the names of ten Iranian officials indicted by the Military Prosecutor's Office over downing of the Ukraine International Airlines passenger plane in January 2020.
"Unfortunately, the Ukrainian side does not know any specific names of these allegedly indicted ten people," Deputy Minister of Foreign Affairs of Ukraine Yevheniy Yenin said on the air of Ukraine 24 TV channel, Ukrinform reports.
The information leaks repeatedly happen in the Iranian mass media but they are not confirmed later, he noted.
"The Iranian side has not yet provided us with any of these details, so we cannot know whether these are the people who are really involved in the downing or not," Yenin said.
He noted that Ukraine had repeatedly called on the Iranian side to be more transparent in the conduct of both technical investigations and criminal prosecution of those involved in the downing. However, the Iranian side has a "purely formal" approach towards the fulfilment of its international legal obligations, the deputy minister stressed.
"All promises remain only in words. Unfortunately, the case is not moving forward," Yenin said.
As reported, on April 6, the Iranian Military Prosecutor's Office filed charges against ten officials in connection with the downing of a passenger plane of Ukraine International Airlines in January 2020.
On January 8, 2020, Ukraine International Airlines plane (Flight PS752) heading from Tehran to Kyiv crashed shortly after taking off from the Imam Khomeini International Airport. There were 176 people on board – nine crew members (all Ukrainians) and 167 passengers (citizens of Ukraine, Iran, Canada, Sweden, Afghanistan, Germany, and the UK).
On January 11, Iran admitted that its military had accidentally shot down the Ukrainian passenger jet. Iran's Islamic Revolutionary Guard Corps (IRGC) accepted full responsibility for the downing of the Ukrainian airliner.
On February 20, 2021, Iran announced the completion of the investigation into this case.
ol