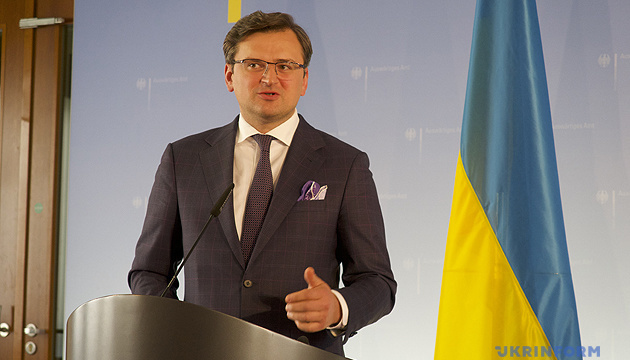 Kuleba: Moldova remains friend for Ukraine
Ukrainian Foreign Minister Dmytro Kuleba has assured his Moldovan counterpart Aureliu Ciocoi in a phone call that Moldova remains a friend for Ukraine, the Ukrainian Foreign Ministry's press service has reported.
According to the report, the parties discussed the development of friendly Ukrainian-Moldovan relations, as well as the aggravation of Russia's security situation in the temporarily occupied territories of Ukraine and a buildup of Russian troops around the borders of Ukraine. Ciocoi said that Moldova's support for Ukraine's sovereignty and territorial integrity remained unchanged.
The ministers also drew attention to the situation surrounding former Ukrainian judge Mykola Chaus, who four years ago illegally entered Moldova, where he had sought political asylum and had recently disappeared in Moldova under no less bizarre circumstances.
According to Kuleba, Ukrainian law enforcement officers expected that after the positive completion for Ukraine of the trial of Chaus's complaint against the refusal to grant him asylum, he would be extradited under international legal assistance on the basis of European conventions and bilateral agreements on extradition and mutual assistance in criminal matters.
Kuleba noted that Ukraine had nothing to do with the current situation with Chaus and proposed setting up a joint working group to establish all the circumstances, in particular, the whereabouts of the former judge. He also said that Moldova remained a friend of Ukraine.
"The Ukrainian side is convinced that attempts to use the situation in their favor are being made by forces that are not only not interested in the further deepening of Ukrainian-Moldovan cooperation, but also aim to disrupt the positive development of relations between both countries and the strengthening of Ukraine's and Moldova's European prospects," the report reads.
On April 3, Chaus's lawyer, Yulian Balan, said a group of unidentified gunmen had abducted Chaus in central Chisinau. Local police confirmed the report.
On March 3, a panel of civil, commercial and administrative disputes of the Supreme Court of Moldova refused to grant political asylum to former Ukrainian judge Mykola Chaus, who has been hiding in Moldova since 2016.
On August 9, 2016, detectives of the National Anti-Corruption Bureau of Ukraine and prosecutors of the Specialized Anti-Corruption Prosecutor's Office caught Judge Mykola Chaus receiving a $150,000 bribe.
In September of the same year, the Verkhovna Rada upheld the Prosecutor General's Office's request for consent to detain and arrest the judge. However, Chaus fled Ukraine. Since November 11, 2016, the judge has been on Interpol's international wanted list.
In October 2017, the High Council of Justice suspended Chaus from office, and on November 28, 2017, it decided to dismiss him as a judge.
op