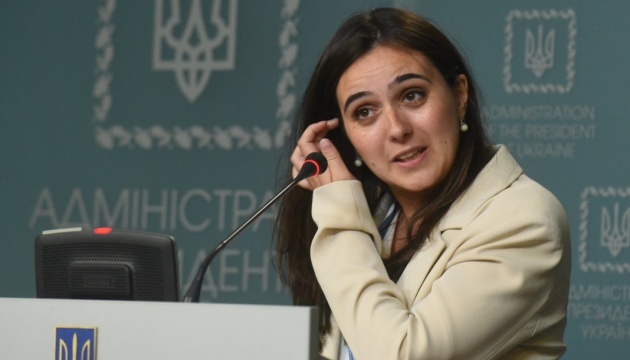 Mendel: Format of first Crimean Platform summit being discussed
The format of organization of the first summit of the international Crimean Platform scheduled for August 23 is still being discussed.
"The first Crimean Platform summit is scheduled for August 23, the day before the Independence Day. Of course, the pandemic has put many events on hold, and we are now discussing in what format the summit will be organized. We gather a huge coalition because we understand that our common home is impossible without Crimea," Iuliia Mendel, Spokesperson for the President of Ukraine, said on air of the Dom TV channel, Ukrinform reports.
At the same time, she stressed that President Volodymyr Zelensky talked to the leaders of many countries about the Crimean Platform. Mendel noted that the creation of this platform was already welcomed by such countries as Lithuania, Great Britain, Turkey and more than a dozen other countries.
"And some countries have already consented in principle that they will take part in this negotiation process," the President's spokesperson added.
Crimean Platform is a new consultative and coordination format initiated by Ukraine to improve the efficiency of the international response to the occupation of Crimea, respond to growing security challenges, step up international pressure on Russia, prevent further human rights violations, protect victims of the occupying power and to achieve the de-occupation of Crimea and its return to Ukraine.
The Crimean Platform is expected to operate at the level of heads of state and government, foreign ministers, in the dimension of inter-parliamentary cooperation and expert network.
The Crimean Platform is to be launched officially at an inaugural summit in Kyiv in August 2021.
оl