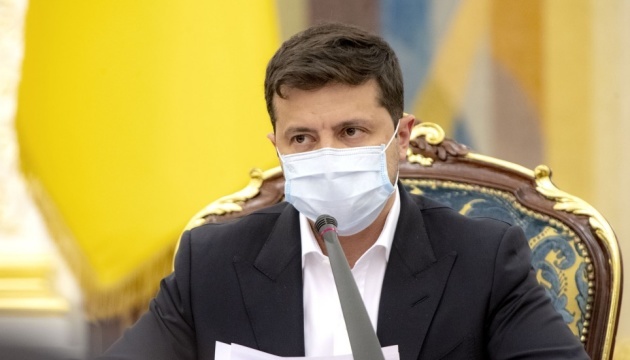 Zelensky thanks MPs for introduction of digital passports
The Ukrainian parliament has held a successful and productive extraordinary meeting, voting for a number of important bills needed by Ukrainian citizens and businesses, President Volodymyr Zelensky has said.
According to the presidential press service, the head of state described as a great success the adoption of the law on digital passports, which makes digital biometric passports and ID cards in the Diia mobile app legally equivalent to ordinary passports.
Ukraine has become the first country in the world to legalize digital passports, Zelensky stressed.
"It will greatly simplify the lives of citizens and start large-scale digitization of business and the state. In addition, digital passports are much safer and more convenient than paper ones. We have created a unique world case that we can and should be proud of. We are building a state in a smartphone," he said.
According to the report, the parliament adopted the presidential bill on financial support for entrepreneurs who are forced to stop their activities due to COVID-19 restrictions in "red zones." In particular, sole proprietors and employees whose activities are limited due to lockdown will get a guaranteed payment of UAH 8,000 in support from the state budget.
The president also welcomes the adoption of a package of bills on "tax amnesty," including his proposed bill on the voluntary declaration of assets of individuals from July 1, 2021 to July 1, 2022. The document says that individuals will have to pay a one-time fee of 5% for assets placed on the accounts of Ukrainian banks, 9% for those placed abroad, 2.5% for the value of government bonds purchased in the period from January 1, 2021 to June 20, 2022. This is a powerful step towards the fight against the shadow economy in Ukraine, Zelensky said.
In addition, voting for the bill, which provides budget funding for the Ministry of Agrarian Policy, is also important.
"The Verkhovna Rada has shown that it can work in the interests of citizens and for the sake of strengthening our state even in such difficult conditions as the pandemic and lockdown," Zelensky said.
MPs also passed the law that will unblock large-scale privatization and allow for sustainable investment in Ukraine's economy, create new jobs and a tax base.
The Verkhovna Rada held three extraordinary meetings on March 30.
Earlier, the parliament canceled the plenary week from March 29 to April 2 due to the aggravation of the epidemiological situation in the country.
op