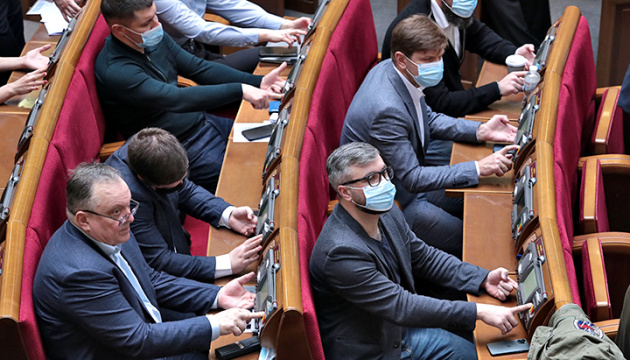 Ukrainian parliament calls on countries to increase pressure on Russia
The Verkhovna Rada, Ukraine's parliament, has approved a statement demanding that Russia immediately cease hostilities and adhere to the ceasefire and calling on the world community to continue and increase political and economic pressure on Russia so that it end its aggression against Ukraine.
A total of 308 MPs voted for resolution No. 5312 "On the statement of the Verkhovna Rada of Ukraine on the escalation of the Russian-Ukrainian armed conflict" at an extraordinary parliament meeting on Tuesday, March 30, according to an Ukrinform correspondent.
"Since the beginning of this year, there has been a significant increase in shelling attacks and armed provocations by the armed formations of the Russian Federation. […] The latest glaring fact was the massive shelling by Russian occupation forces on March 26, 2021 of the positions of the Ukrainian Armed Forces near Shumy. In just one day, four Ukrainian servicemen were killed and one was seriously wounded by Russian weapons," the statement reads.
Ukrainian lawmakers demanded that Russia "immediately cease hostilities and strictly adhere to the ceasefire, fully fulfill its international obligations and withdraw from Ukraine its army, mercenaries, armed formations, which it leads, supports and finances, their weapons and equipment, and to return to Ukraine the full control of its internationally recognized borders."
In addition, parliamentarians called on foreign colleagues and international parliamentary organizations to condemn Russia's aggressive policy towards Ukraine, including the latest wave of escalation in the conflict zone. They also urged the world community "to continue and increase the international political and economic pressure on Russia so that it stops its aggression, withdraws its foreign troops and armaments from Ukraine, and to ensure the full restoration of the sovereignty and territorial integrity of Ukraine within its internationally recognized borders."
The parliament also called on international organizations and international jurisdictional institutions to take all possible measures to investigate serious violations of international law during Russia's armed aggression against Ukraine, including crimes of aggression, war crimes and crimes against humanity committed by Russian armed formations.
In its statement, the Ukrainian parliament extended its deepest condolences to the families of the fallen Ukrainian defenders.
The chairman of the Verkhovna Rada should ensure the immediate transmission of the text of the statement to the national governments and parliaments of foreign states, international organizations and their parliamentary assemblies.
op