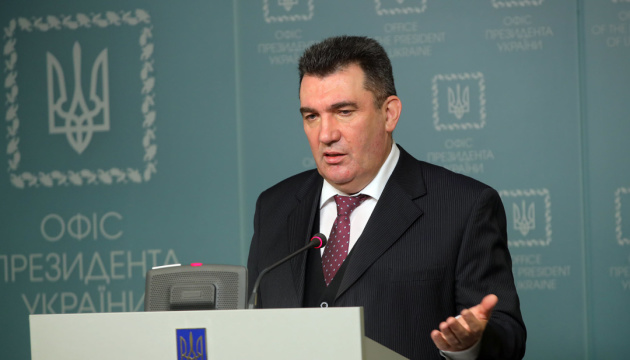 NSDC imposes sanctions against Yanukovych, Azarov and other ex-officials
The National Security and Defense Council of Ukraine imposed sanctions against Viktor Yanukovych, Mykola Azarov, Dmytro Tabachnyk and a number of other ex-officials.
"I will read out the list of persons against whom the state of Ukraine imposed the biggest scope of sanctions provided for in the current legislation," Secretary of the National Security and Defense Council of Ukraine Oleksiy Danilov said at a briefing on March 19, an Ukrinform correspondent reported.
Danilov announced that sanctions were imposed against ex-president Viktor Yanukovych, ex-prime minister Mykola Azarov, ex-prosecutor general Viktor Pshonka, ex-education minister Dmytro Tabachnyk, self-proclaimed "head" of Crimea Serhiy Aksyonov, former MP Vadym Kolesnichenko, businessman Serhiy Kursychenko, ex-defense ministers Pavlo Lebedev and Dmytro Salamatin, ex-prosecutor of the occupied Crimea Natalia Poklonska.
In addition, sanctions were imposed against Serhiy Abysov, Oleksandr Bobkov, Valeriy Hrytsai, Kostiantyn Zatulin, Petro Zyma, Andriy Ivantsov, Oleh Kyrylyn, Volodymyr Konstantynov, Serhiy Kusiuk, Leonid Pasichnyk, Oleksandr Poddubov, Ihor Sorkin, Mykola Tkachenko, Mykola Fidorian, Mykola Fiskov, Oleksandr Cherepitsky and Olha Chychelimova.
According to him, some of these people were citizens of Ukraine, but now 90% of them are already citizens of the Russian Federation.
Danilov explained that the mentioned persons "are under sanctions from today" and "a full scope of sanctions according to the current legislation" was applied against them.
He also added that the decision to impose sanctions was made on the basis of submissions from the Cabinet of Ministers, namely: "on police officers who broke the oath and now work in Russia or the temporarily occupied territory of Donetsk and Luhansk regions" and the SBU chief's report.
As reported, on January 24, 2019, the Obolonsky District Court of Kyiv sentenced ex-president Viktor Yanukovych in absentia to 13 years in prison for treason and aiding and abetting an aggressive war.
ol