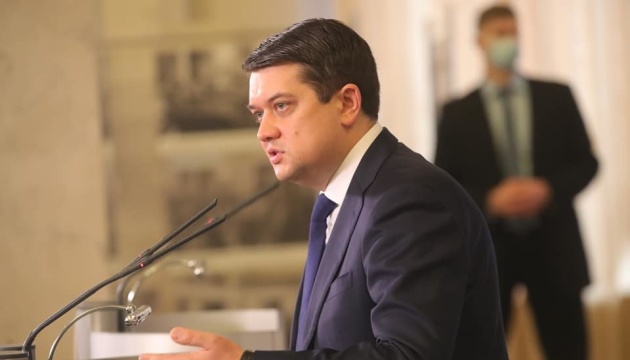 Razumkov: Ukraine relies on defense and security cooperation with United States
Ukraine looks forward to fruitful cooperation with the United States, in particular in the parliamentary dimension and the defense and security sector.
"Ukraine appreciates the bipartisan support we see in the U.S. Congress. We are grateful for the support of legislative initiatives aimed at strengthening assistance to Ukraine, especially in the field of security and defense," Speaker of the Verkhovna Rada of Ukraine Dmytro Razumkov said during a telephone conversation with U.S. Senator Rob Portman, Co-chair of the Senate Ukraine Caucus, the press service of the Verkhovna Rada informs.
Razumkov thanked Portman for his significant personal contribution to the formation of a strong parliamentary foundation for the US-Ukraine strategic partnership, the further development of mutually beneficial cooperation and interaction.
During the conversation, he assured that Ukraine decided on its geopolitical direction, European and Euro-Atlantic integration, noting that he is grateful for the U.S. support in this matter.
The Speaker of the Verkhovna Rada expressed hope that the consequences of the pandemic would be overcome soon, and cooperation between Ukraine and the United States would be intensified, in particular, between interparliamentary groups and foreign affairs committees.
The parties also discussed cooperation in the energy sector, in particular, countering the construction of the Nord Stream 2 gas pipeline.
According to Razumkov, the issue of energy security is one of the important elements of Ukraine's national security. He thanked the United States for its sanctions policy on Nord Stream 2.
"Ukraine has repeatedly felt that this economic project is becoming an element of pressure, an element of political rather than economic influence. And it is used as a mechanism of blackmail very often. Therefore, I am convinced that we must unite our efforts in blocking the further implementation of this project," the Speaker of the Verkhovna Rada said.
He also expressed hope that the United States would continue to ensure sanctions on the Nord Stream 2 project, which would make it impossible to complete and commission it.
Razumkov expressed gratitude for the consistent U.S. sanctions policy in response to Russia's ongoing aggression against Ukraine in Donbas and Crimea and noted that achieving peace in Donbas remains a key priority for the Ukrainian Parliament and the Ukrainian people.
In turn, U.S. Senator Rob Portman assured that the United States would support the territorial integrity and sovereignty of Ukraine. He also expressed support for countering the construction and launch of the Nord Stream 2 gas pipeline.
ol