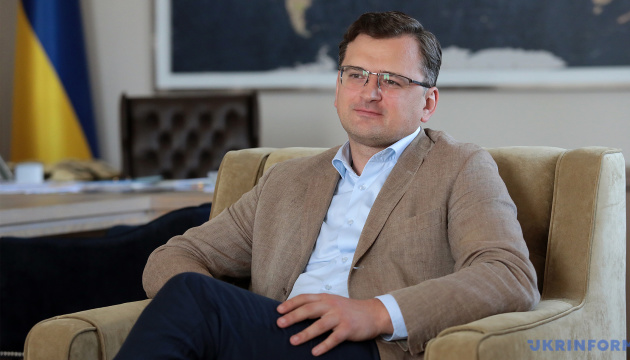 Ukraine counts on Slovenia's support during its presidency of Council of EU – Kuleba
Ukraine counts on support of its European aspirations during Slovenia's presidency of the Council of the European Union in the second half of 2021.
Ukrainian Foreign Minister Dmytro Kuleba said this at a joint press conference with his Slovenian counterpart Anže Logar in Kyiv on March 16, an Ukrinform correspondent reports.
Kuleba said that he had discussed with Logar the development of political dialogue and economic cooperation between Ukraine and Slovenia. He also noted the importance of holding a meeting of the Intergovernmental Commission and a business forum this year.
"Slovenia will hold the presidency of the Council of the EU in the second half of this year; therefore, of course, a significant part of the conversation was devoted to European affairs. Slovenia is a consistent friend of Ukraine; it supports Ukraine on its way to European integration. Therefore, we expect that in the discussions that will take place in the EU regarding the future of Europe, the voice of Ukraine will be heard," Kuleba said.
He also thanked Slovenia for its important contribution to the decentralization reform in Ukraine and for supporting Ukrainian children whose parents were killed or injured in the conflict zone in Donbas.
In this context, the minister informed that 467 Ukrainian children had already undergone rehabilitation in Slovenia.
In addition, the schedule of contacts between the two states at all levels, including the highest one, for this year was discussed at the meeting. Kuleba noted that Ukraine and Slovenia are celebrating the 30th anniversary of their independence this year, and stressed that "we will be waiting for the distinguished guest from Slovenia at the celebrations of the 30th anniversary of Ukraine's independence and at the inaugural summit of the Crimean Platform."
ish