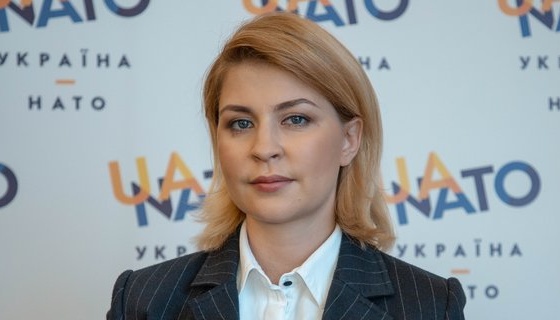 Ukraine seeks to increase participation in NATO-led missions, operations - Stefanishyna
Joining NATO is a matter of principle for Ukraine's political leadership, Deputy Prime Minister for European and Euro-Atlantic Integration Olha Stefanishyna has said.
She said this at a meeting with Lieutenant General Roger Cloutier, Commander of NATO Allied Land Command, the Ukrainian government's press service said.
According to the report, the parties discussed the strategic vectors of Ukraine's integration into NATO in the military sphere, in particular within the Enhanced Opportunities Partnership (EOP).
Stefanishyna said that Ukraine was doing all it could to use the EOP status as much as possible.
"Ukraine's accession to NATO is a matter of principle for Ukraine's political leadership. Today is the historic moment when the President of Ukraine, the parliamentary majority and the government are united in their desire to carry out all the necessary internal transformations on the road to Ukraine's membership in NATO. First and foremost, we focus on modernizing our security and defense sector in line with the Alliance's standards and practices. We have already started a key reform for this - the transformation of the Security Service of Ukraine from a law enforcement agency into a special service, using the best world experience and practices of the Allies," she said.
Stefanishyna also outlined the agenda of strategic vectors of Ukraine's integration into NATO within the EOP: faster achievement of interoperability of the Ukrainian Armed Forces with the troops of the Allies; maximum access of Ukraine to participation in NATO-led missions, operations and exercises, including as part of the implementation of Article 5 of the Washington Treaty (collective defense); exchange of confidential information between Ukraine and NATO in real time through secure communication channels according to NATO standards; appointment of Ukrainian representatives to positions in NATO headquarters, command structures and agencies.
"The capabilities and invaluable experience of our Armed Forces and special services in countering Russia's hybrid attacks already allow us to move to the next stage of Ukraine's integration into NATO, and thus significantly strengthen the world's best collective defense system. I am convinced that the security of NATO and the security of Ukraine are interdependent, and this is the basis for the prosperity not only of Europe, but also of the entire transatlantic region," Stefanishyna said.
For his part, Cloutier reaffirmed NATO's unwavering support for independence, sovereignty and territorial integrity of Ukraine, in particular in the context of countering Russia's armed aggression against Ukraine.
On June 12, 2020, the North Atlantic Council recognized Ukraine as an Enhanced Opportunities Partner.
op