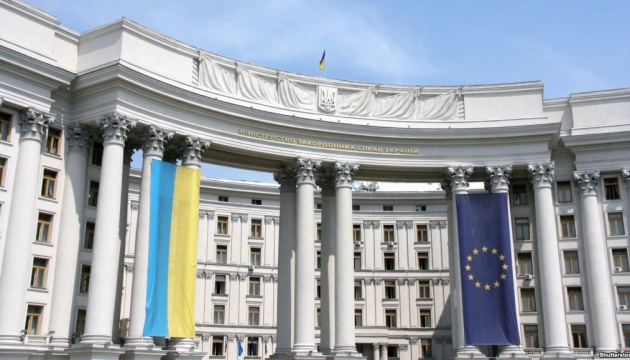 Ukraine's Foreign Ministry reports on activities of past year in numbers
The Ministry of Foreign Affairs of Ukraine named the key achievements in numbers for the past year of activities led by Minister Dmytro Kuleba.
As Ukrinform reports, the digital performance indicators are published on the Ministry's website.
Diplomats helped more than 250,000 people return home at the onset of the global lockdown in the spring of 2020. In addition, more than 1,500 lung ventilators of various types, more than 3 million tests of various types, and almost 6 million units of personal protective equipment were brought in from abroad.
In addition, 100% of sanctions against Russia over its aggression in Donbas and Crimea were maintained, despite Russia's attempts to ease them. In addition, Ukraine became one of the six closest NATO partners in the world, receiving the Enhanced Opportunities Partner status.
Another achievement was creating a new format of cooperation – the Lublin Triangle – with Lithuania and Poland and holding its first meeting.
In addition, Ukraine chaired the Danube Commission for the first time in 70 years.
The Foreign Ministry reminds that the Ukrainian diplomats helped to release more than 30 citizens from pirate and terrorist captivity and more than 1,600 citizens from prisons abroad.
All 116 diplomatic missions of Ukraine abroad introduced an electronic queue within the framework of large-scale digitization of the Ministry of Foreign Affairs.
In cooperation with the State Service of Ukraine for Food Safety and Consumer Protection, three new markets were opened: Singapore (halal meat), Lebanon (dairy products) and Ethiopia (eggs).
Ukrainian companies, with the assistance of the Ministry of Foreign Affairs and embassies, won 73 tenders abroad and signed 53 contracts with foreign partners.
The Ministry added that three new visa-free regimes for Ukrainian citizens were established (with Grenada, Saint Vincent and the Grenadines and the overseas territories of the Netherlands).
ol