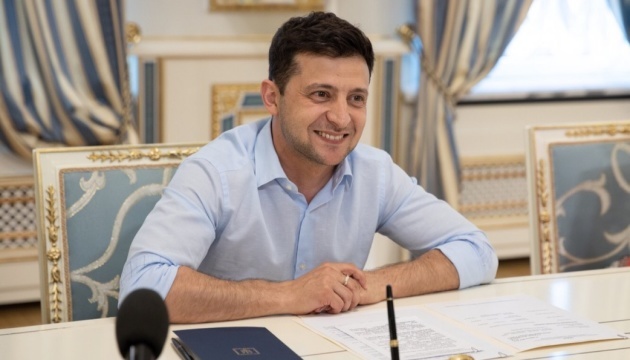 President receives credentials from ambassadors of Vietnam, Brazil and Italy
President of Ukraine Volodymyr Zelensky has received credentials from the newly appointed ambassadors of Vietnam, Brazil and Italy.
The head of state hopes to further intensify cooperation with these states at all levels for the benefit of citizens, his press service reports.
During a conversation with Ambassador of the Socialist Republic of Vietnam to Ukraine Nguyen Hong Thach, the president expressed gratitude for the assistance provided by the Vietnamese side during the most difficult period of the first wave of COVID-19. He stressed the interest in establishing practical cooperation between Ukrainian pharmaceutical plants and Vietnamese partners in the development and production of COVID-19 vaccines.
The interlocutors discussed the liberalization of bilateral trade, noting the growth of its volumes even in the crisis year of 2020.
They agreed to speed up the process of preparing for the signing of a number of bilateral economic documents in order to expand the opportunities for Ukrainian and Vietnamese companies to enter the markets of both countries.
The president of Ukraine and the ambassador of Vietnam outlined the measures of bilateral political dialogue for the current year and discussed cooperation between the countries within international organizations, especially in view of Vietnam's non-permanent membership of the UN Security Council in 2020-2021.
During a conversation with Ambassador of the Federative Republic of Brazil to Ukraine Norton de Andrade Mello Rapesta, the current high level of political dialogue between the two states was positively assessed.
Zelensky reaffirmed Ukraine's commitment to further developing strategic cooperation with Brazil, primarily in trade, investment, agriculture, energy and pharmacology.
The president stressed the need to properly use the existing potential of both countries to implement joint projects in the field of military and technical cooperation, as well as in the aerospace industry.
He praised the work of the Ukraine-Brazil Defense Industry Dialogue.
The president renewed his invitation to President of Brazil Jair Bolsonaro to pay an official visit to Ukraine this year.
During a meeting with Ambassador of the Italian Republic to Ukraine Pier Francesco Zazo, Volodymyr Zelensky welcomed the achieved level of cooperation between Ukraine and Italy and the high dynamics of bilateral political dialogue.
The president noted that Italy is an important partner of our country in the EU and NATO, and stressed the interest in further deepening mutually beneficial relations.
The Italian ambassador noted the leadership of Volodymyr Zelensky in carrying out important reforms, including land and banking sector reforms. He stated that Italy supports Ukraine's territorial integrity and sovereignty. Italy will not back down from the sanctions regime against Russia until Ukraine's territorial integrity is restored in accordance with its internationally recognized borders.
The parties exchanged views on political dialogue measures for 2021 and further steps to intensify trade, economic and investment cooperation between Ukraine and Italy.
ish