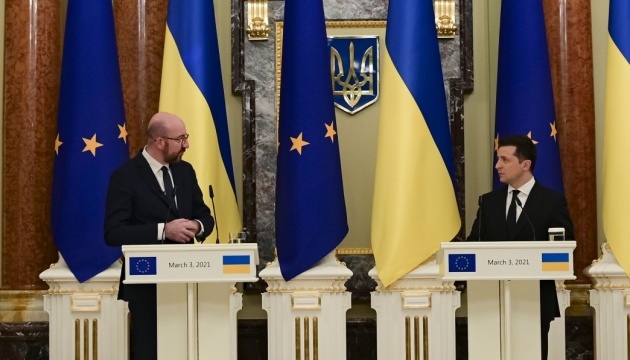 Zelensky calls on EU to impose sanctions over human rights violations in occupied Crimea
President of Ukraine Volodymyr Zelensky invited President of the European Council Charles Michel to take part in the Crimean Platform summit and called on the European Union to impose sanctions on those who violate human rights in the occupied Crimea.
Zelensky noted that Michel's visit to Ukraine coincided with the seventh anniversary of the occupation of Ukraine's Crimean peninsula.
"We share the assessment of the situation in the occupied Crimea, in particular with regard to systemic human rights violations. I am grateful for the EU's consistent policy of non-recognition of the illegal annexation of Crimea. At the same time, more effective international steps are needed. The issue of Crimea should be put on the international agenda... I took the initiative to hold the inaugural summit of the Crimean Platform, which will take place in Kyiv on August 23... I invited Mr. President [of the European Council] along with other international leaders. I very much count on his personal participation," the Head of State said at a joint meeting with the European Council President in Kyiv, an Ukrinform correspondent informs.
He also recalled that the European Union had recently approved a new global human rights sanctions regime.
"In this regard, I proposed to impose these sanctions on those who commit arbitrariness on the occupied Crimean peninsula. This could be a powerful contribution of Brussels to the activities of the Crimean Platform," the President of Ukraine said.
As reported, the Crimean Platform is a new consultative and coordination format initiated by Ukraine to improve the efficiency of the international response to the occupation of Crimea, respond to growing security challenges, step up international pressure on Russia, prevent further human rights violations, protect victims of the occupying power and to achieve the de-occupation of Crimea and its return to Ukraine.
The Crimean Platform is expected to operate at the level of heads of state and government, foreign ministers, in the dimension of inter-parliamentary cooperation and expert network.
The Crimean Platform is to be launched officially at an inaugural summit in Kyiv in 2021.
ol