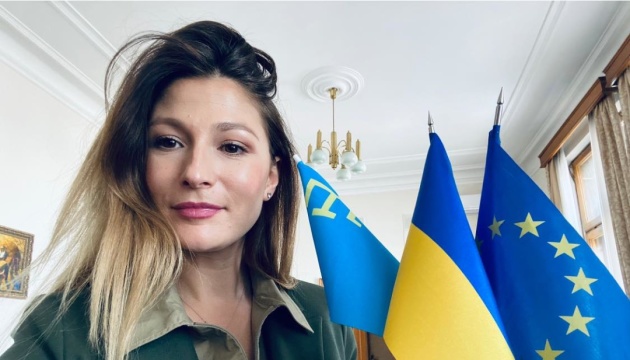 Emine Dzheppar presents Crimean Platform at OSCE
First Deputy Minister of Foreign Affairs of Ukraine Emine Dzheppar presented the Crimean Platform at the OSCE.
"On March 1, Emine Dzheppar took part in an online briefing for delegations of OSCE participating States in the context of the seventh anniversary of the temporary occupation of Crimea," the press service of the Ministry of Foreign Affairs of Ukraine reports.
The First Deputy Minister presented the plans of the Crimean Platform, called on the OSCE participating states to take an active part in its activities and the inaugural summit scheduled for August 23, 2021.
"It is very important to jointly seek answers to the whole complex of consequences of the temporary occupation of Crimea and maintain this problem in the constant focus of the international community," Dzheppar stressed.
As the Foreign Ministry noted, Permanent Representative of the President of Ukraine to the Autonomous Republic of Crimea Anton Korynevych and Deputy Minister of Defense of Ukraine for European Integration Anatoliy Petrenko spoke at the briefing.
The foreign partners reaffirmed their unwavering support for Ukraine's sovereignty and territorial integrity within its internationally recognized borders, strongly condemned human rights violations in Crimea, its militarization and Russia's promotion of misinformation to conceal the negative effects of the occupation.
As reported, the Crimean Platform is a new consultative and coordination format initiated by Ukraine to improve the efficiency of the international response to the occupation of Crimea, respond to growing security challenges, step up international pressure on Russia, prevent further human rights violations, protect victims of the occupying power and to achieve the de-occupation of Crimea and its return to Ukraine.
The Crimean Platform is expected to operate at the level of heads of state and government, foreign ministers, in the dimension of inter-parliamentary cooperation and expert network.
The Crimean Platform is to be launched officially at an inaugural summit in Kyiv in 2021.
As reported, Dzheppar stressed that the Verkhovna Rada should repeal the law on the free economic zone "Crimea" which is inconsistent with the policy of the Ministry of Foreign Affairs on the need to step up sanctions against Russia over the occupation of the Crimean peninsula.
ol