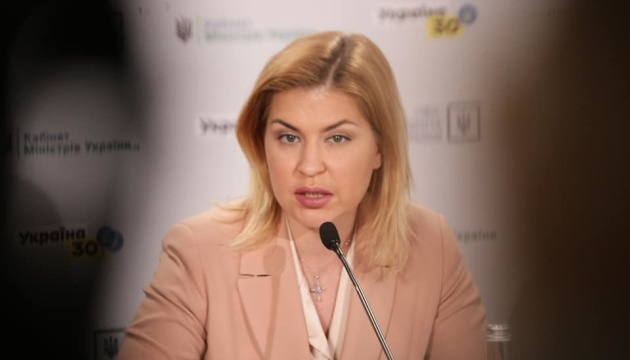 Ukraine has no right to lose its chance to reform judicial system - Stefanishyna
Ukraine has no right to lose its chance to reform the judicial system, as this is the main criterion for the country's membership in the EU and NATO, Ukraine's Deputy Prime Minister for European and Euro-Atlantic Integration Olha Stefanishyna has said.
According to an Ukrinform correspondent, she said this in her speech at the All-Ukrainian Forum "Ukraine 30. Development of Justice" in Kyiv on Monday.
"Trust in justice, an efficient judicial system is the key to Ukraine's independence. Today we have a unique chance when there is political will for transformation, Ukraine's course for EU and NATO membership is secured in the Constitution and, most importantly, our partners see Ukraine as a member of the European Union. In the next three years, we have a unique opportunity, if we have the political will and the will of the president, to reform the judiciary and move Ukraine to the EU and NATO," Stefanishyna said.
In this context, she recalled a statement by EU High Representative for Foreign Affairs and Security Policy Josep Borrell that judicial reform is the mother of all reforms.
"We can talk a lot about how effectively we implement the Association Agreement. We can even agree on great achievements and Ukraine's access to the EU market. We can join big policies and be ambitious. But when there is no trust in Ukraine's judicial system, such achievements are brought to naught in a certain way," she said.
According to Stefanishyna, it is important for government officials moving Ukraine towards European and Euro-Atlantic integration that all those involved in judicial reform unite around this idea.
"We have no right to give up and lose this chance. [...] I ask for your help so that the main criterion of Ukraine's membership in the EU and NATO - the rule of law, trust in the judiciary and transparency of democratic institutions – could become a reality," she said.
op