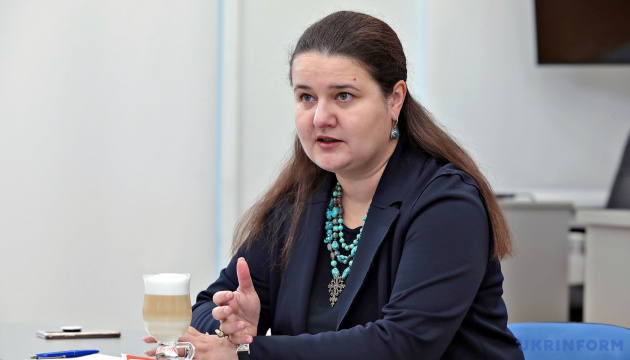 Ukraine hopes for U.S. support in restoring peace in Donbas and moving towards NATO – ambassador
Ukraine hopes for the support of the United States of America in restoring peace in Donbas and in its early progress towards NATO membership.
The newly appointed ambassador of Ukraine to the United States, Oksana Markarova, said this in an interview with Ukrinform.
She emphasized that Ukraine requires maximum pressure and tougher sanctions from the United States and its European partners, so that the cost of aggression against our country for Russia not only does not decrease but increases all the time until the aggressor reverses his behavior.
"The next thing is Ukraine's involvement in the collective security system and our entry into NATO. This is a very important priority, and we hope, with the support of our strategic partner, to do everything within the country to ensure that the MAP and our accession to the Alliance become a reality as soon as possible," Markarova said.
She noted that there are many formats of bilateral cooperation between Ukraine and the United States through the conclusion of various agreements, which we will definitely develop.
"As for the movement towards NATO, Ukraine has clearly defined its position, and we wrote this in the Constitution. Since 2008, our partners have supported the decision on Ukraine's future entry into the Alliance. Therefore, our goal now is to make this way as quickly as possible, obtain the MAP in the shortest possible time, and most importantly, develop our military capabilities in accordance with NATO standards," the ambassador emphasized.
As Ukrinform reported, on February 25, President of Ukraine Volodymyr Zelensky signed a decree on the appointment of Oksana Markarova as Ambassador Extraordinary and Plenipotentiary of Ukraine to the United States of America.
ish