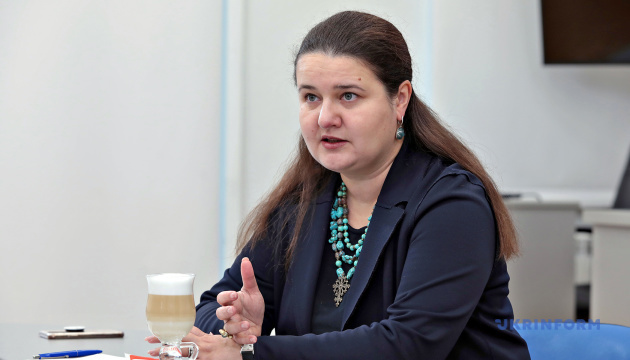 Markarova ready to help cooperate with IMF, but it's not main task of ambassador
The newly appointed ambassador of Ukraine to the United States, Oksana Markarova, is ready to help the Ukrainian side in cooperation with the International Monetary Fund (IMF), but working with this Fund is not the main task of the Ukrainian ambassador.
Markarova said this in an interview with Ukrinform.
She said that Ukraine's president and foreign minister set a task before her - to maximize the development of strategic partnership with the United States in all key areas.
The priorities are, in particular, to expand cooperation with the Biden administration and political dialogue based on their broad bipartisan support; actively participate in all security issues related to the restoration of the sovereignty and territorial integrity of Ukraine and the return of the occupied territories of Donbas and Crimea; and strengthen the security of our country and region.
In addition, Markarova noted that the president is setting new tasks before diplomats in the financial and economic direction - to be economic ambassadors of Ukraine and to maximize support for domestic exports and attracting investments of American companies in Ukraine.
"All these issues are key priorities that I will deal with from the first days in office," she assured.
According to Markarova, she was surprised to read the comments that her appointment was connected with the need to establish effective communication with the IMF in order to receive the next tranches.
In this context, the ambassador emphasized that the Finance Ministry and the National Bank have a team of negotiators who work on this every day. "Of course, as an ambassador, I am ready to get involved in all the issues where I can be useful and help the Ukrainian side in this work. Most of the central bodies of financial organizations are located in Washington, and I have a huge successful experience of working with them and a wide base of personal contacts at all levels, including managerial one, but working with the IMF is far from the main task of the ambassador to Washington," she said.
As Ukrinform reported, on February 25, President of Ukraine Volodymyr Zelensky signed a decree on the appointment of Oksana Markarova as Ambassador Extraordinary and Plenipotentiary of Ukraine to the United States of America.
ish