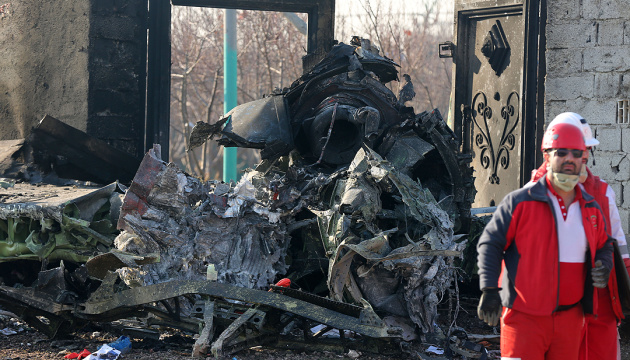 Iran has not yet named suspects in downing of Ukrainian plane - Yenin
The Iranian side, which has already announced the completion of a criminal investigation into the crash of a Ukrainian plane over Tehran, has not yet told Ukraine the names of suspects in its downing, Ukrainian Deputy Foreign Minister Yevhen Yenin has said.
According to an Ukrinform correspondent, he said this on the Ukraine 24 television channel on Monday, February 22.
Yenin said that "as of today, unfortunately, we do not observe an objective and impartial criminal trial in Iran in the case of the downing of a Ukrainian plane."
"So far, we have not even been told the names of those who have been notified of the suspicion, against whom an indictment will be sent to court tomorrow or in the near future. All this, unfortunately, does not contribute to an atmosphere of trust and progress in the negotiation process in terms of providing an adequate level of compensation, restoring justice and providing guarantees to prevent similar incidents in the future," Yenin said.
He added that a technical investigation into the causes of the plane crash was underway in parallel with the criminal probe and Ukrainian experts were finalizing the assessment of a draft technical report by the Iranian side. Yenin said that the Ukrainian side, before sending its opinion to Iran, will refrain from public comments on this document.
"At the same time, I would like to emphasize that these are the two areas on the basis of which we can talk about whether the Iranian side has the political will to comply with all norms and principles of international law within international instruments of which Iran is a member. [...] We still hope that the Iranian side, as it had promised many times, will strictly adhere to the norms of international law. We will demand justice, no matter how difficult and long this path may be. If our negotiations come to a standstill, we will resort to other mechanisms to protect violated rights," he said.
As reported, on January 8, 2020, Ukraine International Airlines plane (flight PS752) heading from Tehran to Kyiv crashed shortly after taking off from the Imam Khomeini International Airport. There were 176 people on board – nine crew members (all Ukrainians) and 167 passengers (citizens of Ukraine, Iran, Canada, Sweden, Afghanistan, Germany, and the UK).
On January 11, 2020, Iran admitted that its military had accidentally shot down the Ukrainian passenger jet. Iran's Islamic Revolutionary Guard Corps (IRGC) accepted full responsibility for the downing of the Ukrainian airliner.
On January 5, 2021, Ukrainian Foreign Minister Dmytro Kuleba said that Ukraine had received from Iran a draft technical report on the circumstances of the crash of flight PS752 and had to prepare its remarks by the end of February.
On February 16, Kuleba said that Ukraine expected to receive from Canada an audio recording, in which a man identified as Iran's Foreign Minister Mohammad Javad Zarif discusses the possibility that the destruction of flight PS752 was an intentional act.
On February 20, Iran said the investigation into the crash of the Ukrainian plane over Tehran had been completed.
op