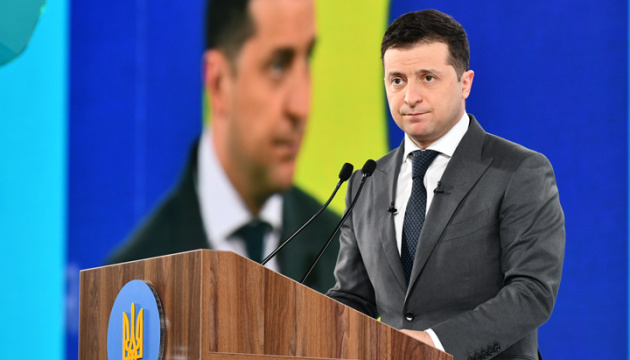 Zelensky: Great Construction project has saved 190 thousand jobs
The implementation of the Great Construction national project has helped save about 190,000 jobs in Ukraine during the restrictive measures amidst the COVID-19 pandemic.
Volodymyr Zelensky said this in an interview with Ukrainian TV channels during the All-Ukrainian Forum "Ukraine 30. Infrastructure", Ukrinform reports with reference to the President's press service
The Head of State noted that the Great Construction project concerns not only the construction of infrastructure facilities and a large number of specialists from related fields and professions were given jobs within its implementation, in particular during the COVID-19 crisis, when jobs were reduced and unemployment increased even in European countries.
"We estimated these programs. If we stop them completely, we will lose about 190,000 jobs in addition to what society has already lost," Zelensky said.
He stressed that schools, stadiums and kindergartens were being built in the regions within the Great Construction project, so it should not be limited to the construction of roads.
The President added that the funds Ukraine received from Russia's Gazprom pursuant to the ruling of the Arbitration Institute of the Stockholm Chamber of Commerce were used to finance the works within the project.
As a reminder, the Great Construction national project was initiated by President Volodymyr Zelensky in autumn 2019. The purpose of the project is to build the necessary infrastructure facilities throughout Ukraine. On March 1, 2020, construction works on more than 300 sites began simultaneously. The plans for 2020 included the construction and renovation of more than 100 schools, 100 kindergartens, 100 stadiums and 200 new hospital admission departments. The construction of 4,000 km of roads was also announced.
ol