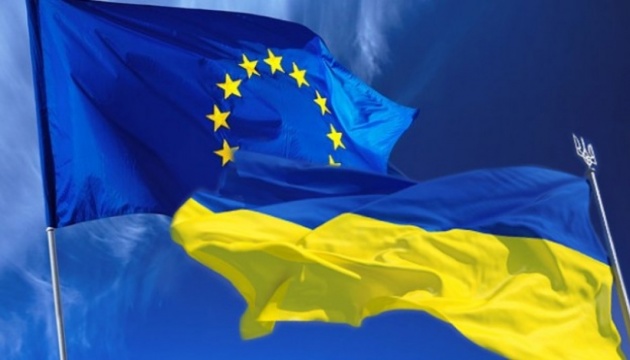 EU-Ukraine Association Agreement won't be revised, Shmyhal assures
Prime Minister of Ukraine Denys Shmyhal assures that the EU-Ukraine Association Agreement will not be revised.
"Of course, the Agreement itself will not be revised. It was adopted, ratified and will be in force. We are talking about reviewing and amending the annexes to the Agreement, they do not require ratification by either European or Ukrainian parliaments. Among the main ones are the annexes on signing the Agreement on Conformity Assessment and Acceptance of Industrial Products which is an element of expanding the comprehensive free trade area. It has 25 principles, 18 of which were already discussed at workshops and relevant agreements were reached last year. We are still working on the other seven. We hope that in 2021-2022 we will reach an agreement on these provisions, and finally sign all the necessary annexes needed for the ACAA," Shmyhal said in an interview with Ukrinform.
"As for the revision of Annex 29, which concerns quotas and duties, our visit actually marked the start of revision. I can't tell you today to what extent certain quotas will be increased and, accordingly, duties will be reduced as it is a comprehensive process aimed at ensuring full-fledged trade with Europe as a result. In the coming weeks, we will organize relevant working groups at the level of the Ministry of Economic Development, trade representatives, and this will be specific work."
The Prime Minister stressed that he did not expect "hopeless cases." "Of course, we are ready that there may be nuances in different product groups, in different industries, but we do not anticipate any problems now," he said.
He also told about the launch of new areas of strategic partnership between Ukraine and the European Union.
According to Shmyhal, "first, it is an area of critical raw materials. The development of modern technologies, green energy poses new challenges to Europe. For example, according to European Union's estimates, the need for lithium used to make batteries will increase 18-fold by 2030 and 60-fold by 2050. And Ukraine has the largest lithium deposits on the European continent. In addition, we have cobalt, titanium, i.e. those minerals that are of great interest to European countries. Europeans are ready to cooperate with us and involve Ukraine in the relevant production alliances. We are interested in both the extraction of minerals and their efficient use - processing into high value-added products, which will remain in Ukraine in form of jobs, salaries, technology. "
According to the Prime Minister, "the second area is cooperation in the field of hydrogen production, a promising energy resource. Since Ukraine has 15 nuclear power units, we have a huge potential for stable hydrogen production. And we are ready to develop it together with Europe, having a constant sales market there."
"The third area is space cooperation. Ukraine has advanced technologies, enterprises, a strong production and workforce capacity, scientific potential in this field. All this is extremely interesting for the European Union today. I want to single out negotiations and reached a mutual understanding in the development of space technologies with the Grand Duchy of Luxembourg which is famous for its powerful space agency and is the heart of these technologies in the EU. All these areas have great potential for our country, and we can really be leaders among European countries," Shmyhal said.
He added that in the issue of funding these projects by European bodies, "options of public-private partnership as one of the most interesting, profitable and real tools for Ukraine" will be primarily discussed.
ol