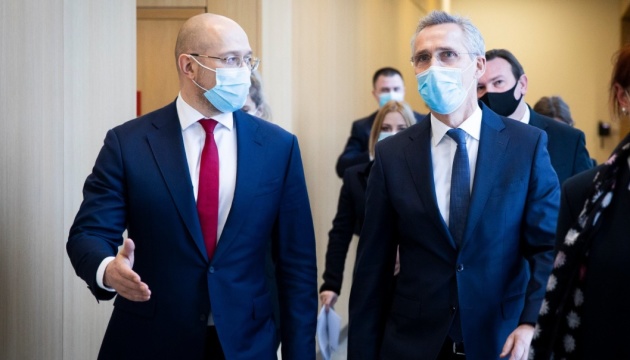 Stoltenberg to Shmyhal: NATO's door remains open to Ukraine
NATO Allies recognize Ukraine as a potential candidate for NATO membership and support Ukrainian efforts to join the Alliance, according to NATO Secretary General Jens Stoltenberg.
He said this at a press conference following talks with Ukrainian Prime Minister Denys Shmyhal in Brussels on Tuesday, February 9, according to an Ukrinform correspondent.
"NATO's door remains open, and we work with countries like Ukraine. Ukraine is recognized as a candidate for NATO membership. NATO allies help and support Ukrainian efforts to join the Alliance. I feel certain that as part of the future project we have launched in NATO, NATO 2030, […] the enlargement policy will be part of that. And also when NATO leaders meet in Brussels later this year, enlargement and NATO's open door policy will be discussed and addressed," Stoltenberg said.
He recalled that NATO made a decision about the membership of Ukraine during the 2008 Bucharest Summit and Allies "stand by that decision and all subsequent decisions following that Summit."
"The focus now should be on the reforms, and I welcome the clear message from the [Ukrainian] Prime Minister on the need to continue to reform, to make sure that we have, or Ukraine has, democratic political control over its defense institutions and armed forces, that continued efforts [are made] to fight corruption and to strengthen democratic institutions of Ukraine. This is good for Ukraine, regardless of NATO. But in addition, the more successful Ukraine is in implementing reforms, the closer Ukraine hopes to meet NATO standards, and the closer you can come to NATO membership," Stoltenberg said.
He noted that the NATO enlargement policy had been a great success and it had "helped to spread our values throughout Europe - the rule of law, individual freedom, democracy."
"Since the end of the Cold War until now, we have almost doubled the number of members of NATO. At the beginning of the 1990s, we were 16 members, now we are 30 members and we added two members just over the last few years," Stoltenberg said.
A Ukrainian government delegation headed by Shmyhal began a working visit to Brussels on February 9. Shmyhal has already met with European Council President Charles Michel and NATO Secretary General Jens Stoltenberg. The program of the visit also includes a series of working meetings with representatives of the European Commission and the European Parliament. On February 11, Shmyhal will lead the talks in the format of the EU-Ukraine Association Council.
op