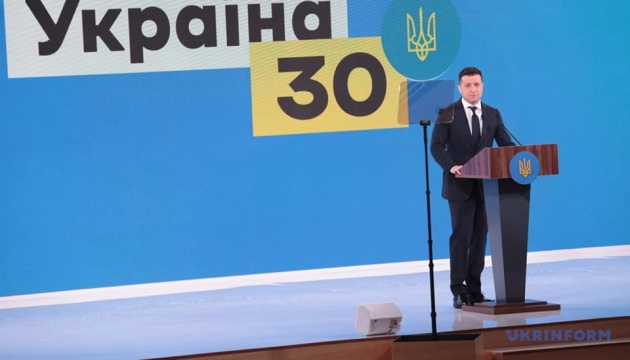 President launches large-scale public dialogue with 30 weekly forums
Ukrainian President Volodymyr Zelensky has launched a large-scale public dialogue to mark the 30th anniversary of Ukraine's independence, which will consist of 30 large-scale weekly forums on vital issues for the country.
According to an Ukrinform correspondent, the head of state stated this in his speech at the All-Ukrainian Forum "Ukraine 30. Coronavirus: Challenges and Responses" in Kyiv on Monday, February 8.
"Today is the first event in which we are launching a series of 30 large-scale weekly forums in Ukraine. This is the launch of a large-scale public dialogue with the authorities, the public, our international partners, Ukrainian experts, scientists, journalists, and all ordinary citizens of Ukraine. Over the next few months, in addition to COVID-19, we will be talking about security and defense, peace and war, Crimea and Donbass. we will talk about security and defense, peace and war, Crimea and Donbas, utility tariffs, judicial and anti-corruption systems, agriculture, digitalization and infrastructure, education, science, culture and sports, the medical and social spheres, the Ukrainian industry, ecology, local self-government, and many other very important things that are the pillars of our independence," Zelensky said.
He noted that the whole year, when Ukraine will celebrate the 30th anniversary of its independence, will be full of a number of events and important dates, and the format of the celebration on August 24 will be unprecedented for Ukraine.
"But 30 years of independence are not just a date and a holiday. It is a time when we should sum up the preliminary results, admit mistakes, draw the right conclusions, set ambitious goals and move forward together. To do so, we all need a long, well-grounded, maybe hard but honest conversation. Therefore, every week this place will be a platform for the main topics of Ukraine, a place for dialogue, questions and answers, and most importantly, for finding and generating solutions," Zelensky said.
In this context, he called on Ukrainian citizens to follow the discussions, especially in the context of the adoption of the law on people's power and future referendums in Ukraine.
"These forums can give you an understanding of many processes, useful information and answers to very important questions," Zelensky said.
op